Creative teams at ILM and Whiskytree used CineSync to stay in constant contact regarding scenes and CG creations.
The gleaming futuristic cityscape is a central character in Disney's Tomorrowland. A hidden city in a parallel dimension, built in the film by the great minds of the 19th Century but created for the silver screen by the creative teams at Industrial Light & Magic and Whiskytree.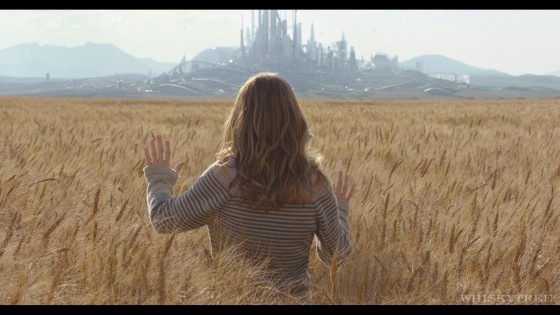 Tomorrowland is not the first collaboration between industry legend ILM and Whiskytree; other films they've shared the creative heavy pixel lifting include The Lone Ranger, Transformers: Dark of the Moon, and Transformers: Age of Extinction. Both are located in the San Francisco Bay area, making in-person meetings possible when needed.
Whiskytree was initially brought on board to create the exterior shots of the gleaming Tomorrowland, as well as an endearing sequence that takes place beneath a copse of crystal trees. But as production progressed Whiskytree's workload expanded. Keeping pace with the rest of the production team required efficient communications; the partnership used CineSync video review software from Cospective to work on all joint sequences.  
CineSync has been Whiskytree's main form of communication with clients like ILM for several films. "CineSync is really our main form of communication with clients," says Brian Meanley, a technical director at Whiskytree. "It's just about efficiency. CineSync really is the standard in the industry, so everybody is using the same tool. And it's easy to use too: you get the 'Here's a session key' when you start a project, and everyone knows what that means. Just knowing that we are customers of cineSync and our clients are customers of cineSync, we can hop on it in five minutes and be having a discussion."
Blueprints for Utopia
Whiskytree was given considerable license to put its own creative stamp on the project. For the exterior shots of the city, Whiskytree wasn't given a pre-approved asset and told to drop it into a plate. The studio was integral in defining the very look of the futuristic utopia from the design stages onwards. "When ILM first presented the shot to us, the concept art for the city itself wasn't fleshed out and finished," Meanley remembers. "[Tomorrowland director Brad Bird] hadn't yet fallen in love with the concept. It came down to us to get a little creative."
ILM initially came to Whiskytree with a half-designed concept, but one that did not yet make complete sense from a physical standpoint. "ILM originally provided us with some CG geometry and layouts they were using for interior shots of the city, but when we rebuilt and reconstructed that city and rendered it from a distance it didn't look like the concept art – obviously because they were never intending it to look like that," says Meanley. "We took a step back and took their assets, modified them, and came up with designs that matched as closely as possible with the concept art we were initially given."
While exploring their new vision for the city, Whiskytree would send work-in-progress renders to ILM, holding CineSync sessions a few times a week to ensure progress remained in sync with expectation. Meanley says CineSync played a key role in the process, allowing the team to create a horizon of futuristic buildings that felt truly iconic. "The key point was getting the silhouette right from a distance, and during our CineSync sessions, at any point, Barry could just draw on the screen different versions of that silhouette, or they would give our renders to the concept team internally at ILM. They would chop it up, work on it, and make some variations that Brad could look at and pick pieces from here and there. He'd then pull favorites and form new concept art based on our renders."
After the director signed off on the final concept, Whiskytree built new assets from the final concept art and proceeded to render out the final vision for the shot. "It's nice to be creative sometimes with the more fantastical visuals," adds Meanley. "On this occasion it was about making sure the final image felt really iconic, and we definitely succeeded with that."
The world of Tomorrowland isn't all robots, jetpacks and shimmering skyscrapers. One of the film's most memorable sequences takes place during a moment of respite, as the film's leads rest beneath the glow of a small group of luminous crystal trees.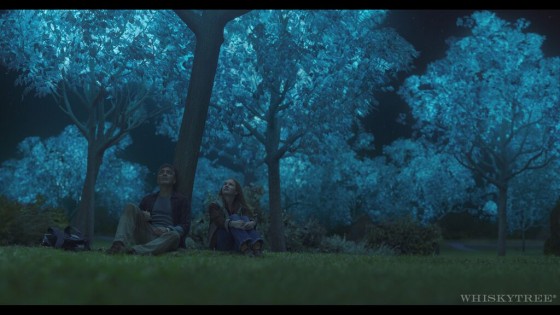 "The trees actually were one of the more creatively tricky elements of the project," says Whiskytree technical director Steven Caron. "We had to get that aesthetic right and make it feel emotionally correct in the sequence where it appears in the movie. There weren't really any technical issues that weren't surmountable: it's all about getting to that final look and emotional resonance that everyone was happy with."
The solution was simple: iterate, and then iterate again. Whiskytree explored several looks for the bioluminescent trees, searching for a look that matched the scene's narrative intent. "During a CineSync session [ILM's Barry Williams] made use of some of the color adjusting and grading capabilities to show the direction that he wanted us to push the shot in," says Caron. "That was interesting for us; it's a tool that came in really handy and helped to achieve the right look and feel for the scene."
Splitting the Eiffel Tower
One of Tomorrowland's more intriguing plot turns involves the Eiffel Tower becoming a launch platform for a 19th Century space shuttle. "That sequence involved some techniques that we hadn't really experimented with before," remembers Meanley. "For the shot of the shuttle taking off, for example, we had to recreate the overhead views of Paris as accurately as possible. We used a lot of open-source map data and constructed geometry based on vector map data of Paris. We really stepped out of our normal workflow for that, but it worked really well."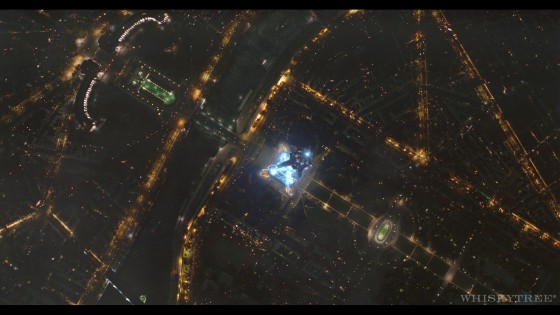 More time-consuming work involved implementing variable retimes and speed ramps on a large number of shots, while elsewhere invisible effects – including set extensions and modifications to the plate – were treated with equal importance to the major shots. "We would get new sequences from ILM forwarded to us, and it was great to have that variety," says Meanley. "It was always an iterative process, and CineSync ensured that there were no surprises; it was a collaboration through and through."
"We've even started trying to push CineSync to more of our clients," adds Caron. "So many times in the past we'd say, 'If we could draw on that frame now this would be really easy.' It's not particularly convenient when you have to open up Photoshop and draw on the frame before sending it back over email. CineSync allows us to make those easy sketches, though, getting the message across instantly without the need for back-and-forth email chains."
An extended preview of Tomorrowland.