Siemens recently unveiled the newest member in its longstanding 'Solid Edge' family of CAD products.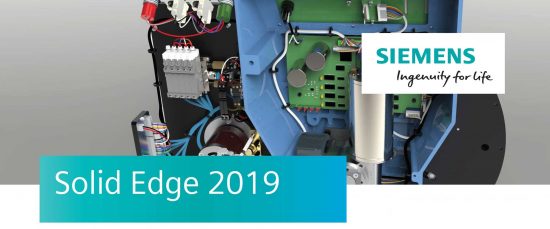 Earlier this month, Siemens announced the latest release of its signature CAD software in the form of Solid Edge 2019 (SE 2019). A mainstay in the industry for some time now, Solid Edge has built a reputation as a capable yet easy-to-use CAD/CAE offering.
The latest iteration, Solid Edge 2019, again ups the ante by introducing a number of new features as well as upgrades to existing technologies. This includes the ability to reverse engineer imported objects, and new technologies such as convergent modeling, generative design, and advanced flow simulation. SE 2019 also introduces what Siemens refers to as "best-in-class" PCB (printed circuit board) design tools, as well as updated management features, simulation analysis, and cloud-based storage and collaboration capabilities.
"The global market requirement to develop and deliver increasingly complex products in shrinking timeframes has created many new challenges for our customers, as well as new opportunities to differentiate," stated John Miller, senior vice president, Mainstream Engineering, Siemens PLM Software. "I'm confident that the integration of leading technologies and the next-generation design capabilities delivered in the Solid Edge 2019 portfolio will empower our customers to innovate in the new era of digitalization."
Solid Edge 2019's hefty list of upgrades includes new tools used in convergent modeling, enabling engineers to incorporate mesh models directly into their workflows. The new tools also support milling, casting, and molding of generative designs, meaning the entire production process can be modelled and simulated, not just the final product.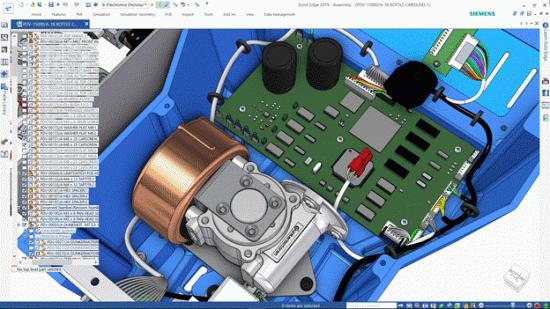 Electrical engineering using SE 2019 has also been given a boost, with Solid Edge Wiring Design providing design tools that can be used to quickly create and verify the flow of wiring through electrical systems. Solid Edge Harness Design adds harness and formboard design using automated part selection, verification, and report generation, while Solid Edge PCB Design allows for the intuitive creation and schematic capture of PCB (printed circuit board) layouts. This includes sketch routing, hierarchical 2D/3D planning, and ECAD–MCAD collaboration.
SE 2019 also offers a new system, Solid Edge CAM Pro, which allows users to program CNC (computer numerical control) machine tools, and supports both simple NC programming as well as high-speed, multi-axis machining. Automated print and color preparation for additive manufacturing also means designs can be sent directly to your 3D printer (or 3D printing service) to be made into reality.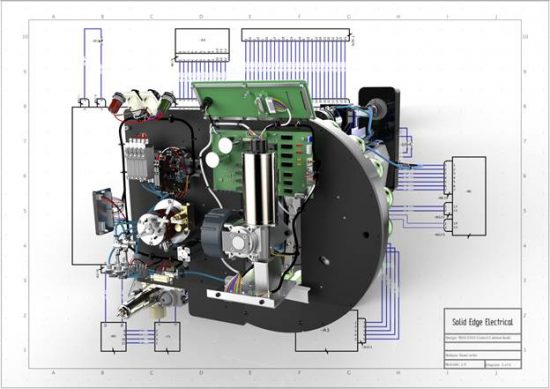 P&ID Design and Solid Edge Piping Design tools brings improved modelling, simulation, and automated placement of piping systems to SE 2019. These systems allow for automated 3D piping design (alongside an included 3D parts library), as well as fully automated isometric drawing output for plant design. According to Siemens, these tools can help reduce design errors and help ensure efficient piping design in high risk industries such as oil & gas.
The latest iteration of Solid Edge also sees various updates and improvements to its general capabilities, including better control over shapes, weight, and strength, with tools which according to Siemens allows users to "develop new designs never before possible." Print preparation is also fully automated this time around, with both multi-color and multi-material 3D printing supported from the get-go.
For more information on Solid Edge 2019 as well as purchasing options, please visit the Siemens online store or inquire from one of Siemens' official partners. Interested users who'd like to take a more intimate tour of SE 2019's list of offerings can also check out their official YouTube library which includes more than 40 videos explaining the finer details of each new feature. For a taste, check out the short video below (courtesy of Siemens).