Microsoft and AMD continues expanding the graphical capabilities of the Xbox One X/S, unfortunately also requires you to buy a new monitor.
Microsoft and AMD recently announced during the new 'Inside Xbox' livestream that they are bringing FreeSync 2 support to the Xbox One X and Xbox One S consoles. This technology helps reduce screen tearing and latency issues while also enabling the consoles to make use of variable refresh rates for the first time.
FreeSync 2 is a technology developed by AMD to help harmonize the relationship between the display and the GPU. Many monitors and in particular TVs these days ship with built-in post processing features. These help increase brightness and color saturation to improve the fidelity and viewing experience when it comes to traditional TV content such as movies.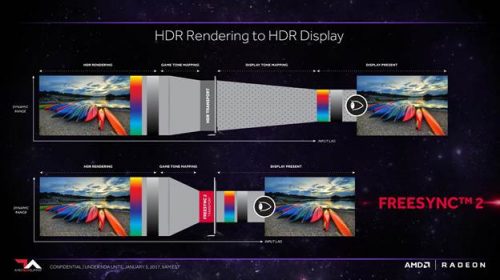 When it comes to gaming however, things have become somewhat more complicated. Frequently the post-processing features intended to enhance picture quality has actually had a detrimental effect on the gaming experience. Due to the display having to deal with increased tone mapping when it comes to HDR (High Dynamic Range) content, there's a noticeable increase in latency, in some cases up to 100 ms. FreeSync 2 helps resolve this issue by recognizing when a game is being played and then redirecting this workload to the GPU, allowing a game to tone map directly to match the luminance, contrast, and color of your monitor.
It must be noted, however, that users are required to own a FreeSync 2 capable monitor to take full advantage of these perks. These monitors also feature Low Framerate Compensation (LFC) technology that promises to help reduce instances of input lag even further. According to AMD, FreeSync 2 offers more than double the brightness and color volume of sRGB.2.
While the built-in Radeon GPU of Xbox One X and S is capable of FreeSync 2 support, the main issue for console users looking forward to taking advantage of this technology is the scarcity and price of FreeSync 2 capable displays. Even FreeSync 2 compatible PC monitors are comparatively rare, with Samsung one of the only major companies to offer a FreeSync 2 capable line of monitors.
FreeSync 2 features are currently available to Alpha Xbox Insiders, while the public release is slated to form part of 2018's Xbox Spring Update. It was also announced during the livestream that 'Auto Low Latency Mode' will come to supported TVs later this year, something which gamers have been asking for years. While FreeSync 2 lets the GPU take care of post-processing, the Auto Low Latency Mode will simply allow your TV to recognize when a game is being played and then automatically switch off its post-processing options for the duration.
While it's good to see Microsoft and AMD continue to push the Radeon-powered Xbox One X as far as possible, the entry barrier for this technology is still quite restrictive. The fact that it's mainly available via PC monitors at this time also raises questions as to the viability of high fidelity gaming through the TV, one of the strongest selling points for consoles in the first place.
The full 'Inside Xbox' livestream including details on the FreeSync 2 announcement. (Source: Microsoft/AMD).