But only if you're rich.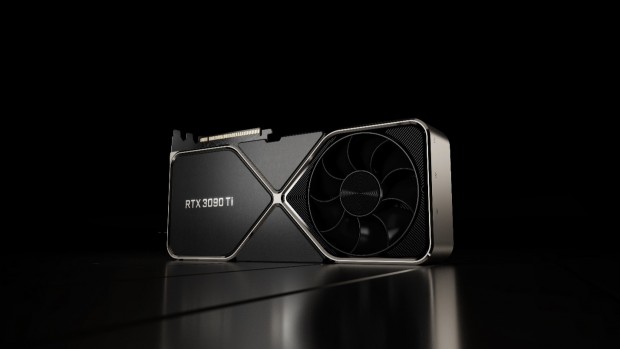 Nvidia officially launched the GeForce RTX 3090 Ti GPU powered by Ampere—Nvidia's 2nd gen RTX architecture. It features a record-breaking 10,752 CUDA cores and boasts 78 RT-TFLOPs, 40 Shader-TFLOPs, and 320 Tensor-TFLOPs of power. And it has 24GB of 21Gbps GDDR6X memory—the fastest there is. This is not an April Fools' Day joke—at least I don't think it is.
The GeForce RTX 3090 Ti is primarily designed for the most ambitious users—those building research systems for data science and AI, or processing large data sets, and those making massive projects in creative applications. Also included in that group are developers or CG animators working with detailed models, super-high-resolution textures, and massive sets. It's also for anyone who simply desires the very fastest GPU on the planet.
The GeForce RTX 3090 Ti is targeted at rich artists and advanced creators, allowing them to edit insanely large models, work on production-quality video, or edit in multiple apps at the same time. Rendering in applications such as Blender, Autodesk's Maya, or Maxon's Cinema 4D not only requires a more powerful GPU, but they also require more GPU memory. Nvidia says the RTX 3090 Ti delivers between 42% to 102% more performance than the RTX 2080 Ti and Titan RTX in those rendering apps. And because the RTX 3090 Ti features a massive 24 GB of memory, it can handle datasets that are twice as large as those that fit into the memory footprint of the original RTX 3080 Ti.
Video editors, says Nvidia, will see huge advantages, as well. For example, working with 8K RAW projects in Blackmagic Design's DaVinci Resolve featuring Redcode Raw (R3D) files uses most of the 10GB of memory available on the original GeForce RTX 3080 Ti. Adding a GPU memory-intensive effect such as Temporal Noise reduction or SpeedWarp retiming can easily exceed the memory available on the RTX 3080 Ti, resulting in out-of-memory errors within the application. According to Nvidia, performing the same memory-intensive operations with the RTX 3090 Ti allows editing to continue normally without having to reduce the project complexity.
Gaming at 8K
Of course, there are folks who hanker to game at the highest resolution with everything enabled. They crave the most immersive experience no matter the price, have the bragging rights to prove it, and they are the early adopters of next-generation 8K displays. The GeForce RTX 3090 Ti lets you play, capture, and watch your games in brilliant 8K HDR with DLSS Ultra Performance mode for 8K gaming, HDMI 2.1 for single-cable connectivity to 8K TVs, GeForce Experience support for 8K HDR game capture, and AV1 decode for efficient playback of 8K HDR streamed video.
Today's most graphically intense games don't take full advantage of the horsepower the RTX 3090 Ti offers. And that's fine. The GeForce RTX 3080 Ti was built for those who want top-of-the-line gaming performance without the added benefits (and cost) of the RTX 3090 Ti. With respect to gaming performance only, the RTX 3090 Ti is on average 64% faster than the RTX 2080 Ti, 52% faster than the Titan RTX, and 9% faster than the previous RTX 3090.
Pricing for the GeForce RTX 3090 Ti starts at $1,999 USD. In the US, the Founders Edition version of the RTX 3090 Ti will be available from Best Buy online. Nvidia notes that general global availability today has been impacted by the latest COVID surge and shutdowns in China, but they expect this to improve throughout April.
What do we think?
What do you call a workstation AIB covered in a consumer product case?
An RTX 3090 Ti.
Although prices for most AIBs are enjoying a price drop, new AIBs such as the RTX 3090 Ti are selling way above MSRP, and the RTX 3090 Ti is no exception; it is selling for $3,820 on NewEgg as of press time.