Latest JPR market update shows Lenovo continuing to gain market share.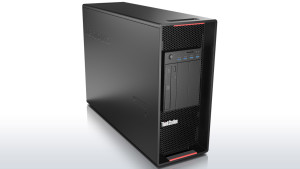 The descriptor of "steady" may not excite, but given the volatility in the workstation market over the last seven years, steady ain't too bad. For those looking to forget the nasty economy of the late 00's, and whose nerves were frayed by the up-and-down rollercoaster that came with the subsequent recovery, the fourth quarter's solid, un-stressful 6.3% year-over year growth will do just fine.
Worldwide, the industry shipped approximately 1.03 million workstations in 4Q14, equating to a within-cyclical-norms 1.4% sequential growth. The fourth quarter saw the first significant volume of many new deskside workstations built on Intel's Haswell-E processor and Grantley platform, an event that helped bolster results.
Market shares for the big three OEMs were generally stable, with the only notable exception being another uptick in Lenovo's share. Lenovo posted its highest-ever 13.6% share in 4Q14, up from 12.0% the quarter prior. HP nudged forward to 41.0% (from 40.7%) while Dell took a step back to 32.5% (from 34.0%).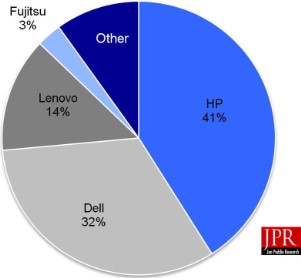 Now, by no means is Lenovo taking huge chunks of market ground every quarter. Still, both HP and Dell are paying close attention to Lenovo's growing stature, as the two are well aware that their own positions changed not by huge quarter-to-quarter swings, but by HP taking a point from Dell here and there. Over the course of five years (2004 to 2009), HP went from a distant number two to the top of the market.
However, in its climb upward, Lenovo is facing a far more competitive landscape than HP did. As JPR analyst and Workstation Report author Alex Herrera, explains, "HP approached and surpassed Dell, primarily because the latter was not particularly interested in the workstation market at (or at least didn't behave as though it were). But today, both HP and Dell are very focused on the market, and both are executing quite well. Still, Lenovo is likely to narrow that gap to the top two, particularly given that the hottest segment of the market is in its home turf of China (and Asia/Pacific, as a whole)."
Similar to the results of the workstation market it serves, the professional graphics market sits near record highs. However, the third and fourth quarters of 2014 followed up Q2's record-high volume with modest sequential declines, resulting from sensible and temporary reasons. The industry, primarily composed of the Nvidia/AMD duopoly, shipped a total of approximately 1.25 million workstation-caliber GPUs in 4Q14, including both mobile modules and deskside add-in cards.
About the JPR Workstation Report
Now in its twelfth year, JPR's Workstation Report – Professional Computing Markets and Technologies has established itself as the essential reference guide for hardware and software vendors and suppliers serving the workstation and professional graphics markets. Subscribers to the JPR Workstation Report receive two in-depth reports per year providing a comprehensive analysis of the vendors and technologies driving the workstation platform. Clients also receive four quarterly reports detailing and analyzing market results for each calendar quarter. For information about purchasing the JPR Workstation Report, visit Jon Peddie Research at http://www.jonpeddie.com.