The move allows for new security and scalability features. Too many manufacturers don't understand Vuuch because they expect yet another PDM tool.
Vuuch, the creator of social network technology for product development, is now shipping Vuuch 4.5. This update includes new security and scalability features, and a move to Amazon.com's cloud technology.
Vuuch calls its eponymous product the first enterprise social system for manufacturers, claiming it is the only manufacturing-specific social technology that connects product development teams together with their deliverables by embedding social networking into the CAD program.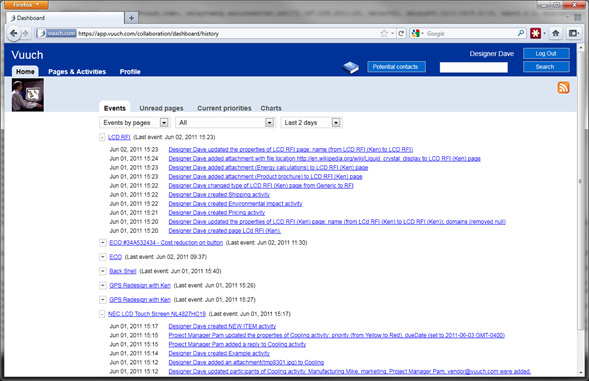 Vuuch 4.5 now runs on Amazon Web Services' Elastic Compute Cloud (EC2) cloud computing platform. Vuuch says this move "offers users enhanced performance, almost limitless scalability, significantly improved reliability and increased operational security."
Vuuch 4.5 also now encrypts all data transmission to and from users' browsers and to and from Vuuch plug-ins using the Secure Sockets Layer specification (SSL, also known as TLS or Transport Layer Security). The Vuuch server will negotiate the strongest possible encryption cipher with browsers for each session, up to and including AES 256-bit encryption. Users who attempt to connect to Vuuch 4.5 using a non-encrypted session are immediately redirected to a secure session. The company claims "it would take decades – if not centuries – for a man-in-the-middle attack to decrypt communications between Vuuch clients and the Vuuch 4.5 server."
Vuuch 4.5 offers a redesigned home page with an activity stream, a time-ordered list of changes to the projects and deliverables the user is involved with. Unlike consumer social networking sites and their business-targeted clones, Vuuch says activity streams are specific to the projects and people that the user is currently working with. This eliminates the need for uses to manually filter social system content to get value from it, as would be necessary if using social technology not specific to product development.
Starting with Vuuch 4.5, users are able to take advantage of RSS (Really Simple Syndication) feeds to have Vuuch events sent to any RSS-capable client.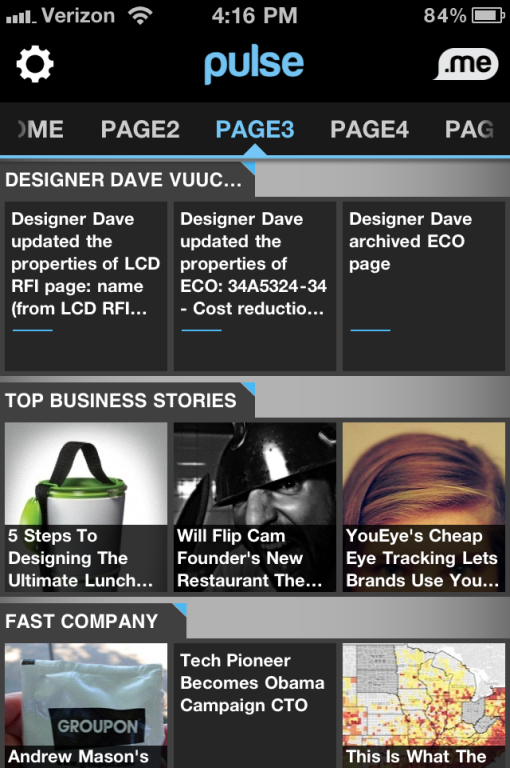 Other new features include:
Attach content: Users may attach any kind of content to a Vuuch page, enabling a "social collection" of all content about a specific deliverable, including notes, files, links and who is or has been involved with that deliverable.
Email context: This update streamlines the display of relevant email messages to make it easier to tell at a glance which part of the project the message relates to.
Archived Vuuch pages: Vuuch 4.5 page archiving allows a team to avoid visual clutter while permitting the process improvement from previous projects to be applied to subsequent projects by simply recalling the archived pages.
Suggest contacts: Users may connect with each other across the enterprise by suggesting potential contacts. Based on an understanding of the social nexus—that is, who is working with whom on which products—Vuuch can suggest additional users who might help make a product better or resolve an issue faster.
Vuuch is available as an annual subscription. Users who create Vuuch pages and activities require a paid license. Other users may update pages and activities without a paid license. Pricing is $300 per year per Vuuch creation subscription. Vuuch 4.5 runs in the cloud, so there is no installation or setup needed. The Vuuch 4.5 web application supports major browsers. The Vuuch web application also supports Apple iPhone, iPad and iPod touch mobile browsers. Optional Vuuch add-ins allow team members to access the Vuuch enterprise social system directly from within Microsoft Office 2007, SpaceClaim, SolidWorks, AutoCAD, Autodesk Inventor, and Pro/Engineer.
What we think
Vuuch automates the notion that interpersonal communication is a valuable product data asset, one that operates in real-time and has archival value. When Vuuch came to market in 2009, we thought there would be competing solutions from the major CAD vendors or other startups soon behind. So far, Vuuch is not only still out front but gaining ground. PTC has announced an end-of-life for its SharePoint-based product development communication program, Windchill ProductPoint, also launched in 2009. Only Solid Edge Insight, another SharePoint-based tool, continues to provide a social networking experience for product development. But it is a more traditional product data management (PDM) tool, not a next-generation technology like Vuuch.
Some industry pundits have called Vuuch a solution in search of a problem. But the real problem is the CAD-based work processes to which most product development slavishly clings. Vuuch requires potential users to think outside the box about their product development methods. Too many users told PTC they didn't buy ProductPoint because they needed deeper PDM capabilities. But Vuuch is for all the information that has no home in any current PDM or PLM system, which means PTC's customers were not seeing the bigger picture.