AMD workstation-class product line refresh is a significant upgrade. 
By Alex Herrera
While availability of new generation CPUs might be the driver of workstation product cycles, new generations of GPUs need to sync up to that same schedule. An expected round of new deskside workstations will typically prompt both AMD and Nvidia to deliver new Radeon Pro and Quadro PCI Express cards (respectively) ready to populate those new machines. Accordingly, Siggraph will often see announcements of new workstation-caliber GPUs. While Nvidia had previously filled out its Quadro line with latest-generation Pascal earlier this year, this time it was AMD's turn to refresh its line, announcing the new ultra-high end Radeon Pro WX 9100 and Radeon Pro SSG cards. The two workstation-caliber products are the first workstation-caliber products to emerge based on the long-anticipated Vega GPU.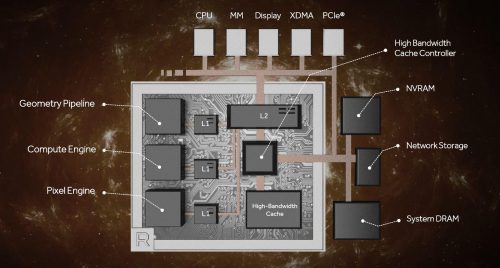 Both new Radeon Pro GPUs fit firmly into the thin and pricy layer of the Ultra-high End, which JPR defines as selling for above $2,500. The Radeon Pro WX 9100 comes with an MSRP of around $2,000 and the Radeon Pro SSG at very lofty $7,000 (though it's worth pointing out street prices are typically a lot lower than MSRP, especially for AMD's line). Both cards are expected to be available on September 13.
What brings Vega to workstations
Much like Zen, the culmination of a multi-year development to raise the bar in CPUs, Vega represents what AMD calls its most comprehensive advancement in GPU technology in 5 years. We'd be inclined to agree, as 2011 marked the introduction of AMD's last ground-up GPU architecture with the original Graphics Core Next (GCN) in 2011.
In the years since, AMD has made incremental improvements in GCN, spawning several product generations, including "Southern Islands," "Northern Islands," "Sea Islands," and "Volcanic Islands." And while Vega is not a from-scratch design—still fundamentally carrying on the original GCN approach and architecture—its advancements certainly push beyond what we'd call minor incremental improvements. Specifically, in Vega, AMD redesigned four primary areas of the architecture, to manage the access and computation to reach the petabyte and petaFLOPS levels it's aiming for in coming years:
"Revolutionary" scalable memory: High Bandwidth Cache and HBM2 technology
New, programmable geometry pipeline
Next-gen Compute Unit (NCU)
Advanced pixel engine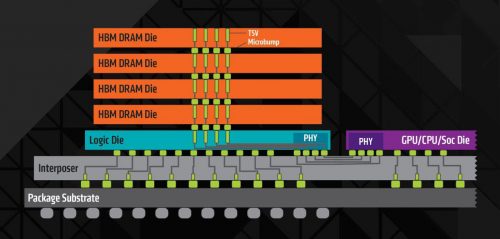 What's perhaps most notable about the use of Vega in Radeon Pro WX 9100 and SSG is HBM2 memory, the first use of HBM2 in the Radeon Pro line Offering twice the bandwidth per pin over first generation HBM (used in AMD's Fiji GPU but not Polaris, which ended up relying on GDDR5) and eight times the capacity per stack, HBM2 offers dramatically higher bandwidth per pin than conventional GDDR5. Even better, that stacking (primarily) allows for 5X power efficiency over conventional memory, the vast majority of savings in elimination of wiggling of relatively long PCB-based wires, rather than through shorter wires and stack vias.
The catch? HBM2 is more expensive than GDDR5 and its construction (in the stacking and packaging more than the silicon) will probably keep it that way. As such, ultra-high end cards like the WX 9100 and SSG make logical products to take the HBM2 plunge. They need the most performance they can get and can tolerate the price premiums. We may see Vega-based Radeon Pro cards at the high end ($950–$1,500) as well, but in the mid-range and entry segments, expect GDDR to remain dominant.
Also introduced bearing the gamer-focused Radeon RX brand, the Vega 10 is the flagship silicon incarnation of Vega. It forms the foundation of both the WX 9100 and SSG products as well, with both new SKUs exploiting all 64 of the Vega 10's compute units (nCUs) delivering a maximum 12.3 TFLOPS of single-precision throughput. Both come equipped with the aforementioned 16 GB of HBM2 memory, accessed at a peak 484 GB/s. And both can drive six 4K displays via the mini DisplayPort 1.4 interfaces. The only appreciable difference between the Radeon Pro WX 9100 and SSG cards is the 2 TB of SSD storage of the latter model.
Why the 2 TB SSD? GPU cards have exclusively utilized some form of DRAM for local storage, in recent years some variant of graphics-optimized GDDR technology (and now taking on HBM2 as well), but never non-volatile high-capacity storage like NAND flash. And 16 GB had been the largest GPU memory capacity to date, and that's well beyond what most users would ever need. Well, given the prices, neither of the new Radeon Pro card is meant for most users, but rather a small minority. But of that minority is a user community AMD thinks it can tap effectively with 2+ TB of local storage: digital media creators moving to 8K authoring.
Vendors of video and graphics hardware have long relied on the incessant march forward in digital content resolution to entice upgrades. Recent stops on that march were 2K (essentially Full-HD) and then 4K, the current de facto standard. 8K now looms ahead, and creators will be gradually transitioning to support the finer resolution. Among the most performance-demanding of those creators will be the buyers AMD is looking to entice with the Radeon Pro SSG.
Will AMD's latest assault on the ultra-high end be successful?
Beyond its Vega DNA, the Radeon Pro WX 9100 stands out among the Radeon Pro family because of the segment it targets: the ultra-high end. Nvidia has long held the lion's share of the workstation GPU market, standing at 80.7% of overall units in Q1'17. But that share was even more commanding in the combined high+ultra-high end segments of the market, where Nvidia is currently shipping over 93% of units.
One only need to note the long time between the introduction of the WX 9100 and its predecessor, the Fire Pro W9100—over three years, an eternity in this market—to appreciate AMD's challenges in competing at the top end of the marketplace. The strength of AMD's GCN architecture and the sizing of its silicon parts have historically yielded products that played better in the more price-conscious mid-range and entry segments. Clearly, AMD felt it hasn't had the right weapon in the last few years to target Nvidia in the top end of the market. Until now, that is.
The Radeon Pro WX 9100 outshines the previous FirePro W9100 in every category, except memory footprint (both 16 GB). Most notably, the new Vega 10 card can deliver 2.3 times the peak single-precision floating-point throughput and 50% more bandwidth in 25 fewer watts. Considering Vega's evolved architecture should be materially more efficient at utilizing the higher FLOPS rate, it's reasonable to think that the WX 9100 could outperform the W9100 by 2.5–3 times faster at compute-bound tasks and up to 1.5 times faster at memory bound tasks. Split the difference, and the WX 9100 might post Viewperf (GPU bound, mostly) scores 2–2.25 times higher. That's fantastic for a conventional predecessor, one delivered about 18 months prior. But AMD essentially missed a refresh cycle, so we're looking at more like 1.5 times where its missing predecessor might have been. Fifty percent is a solid but not astronomical gain, making the prospects for the WX 9100 appear favorable but not likely market-disrupting. We'll know more if and when we get a chance to review the WX 9100 in the coming weeks.
Alex Herrera is a senior analyst at Jon Peddie Research.