New features in the 2014 edition include faster 3D viewing and several commands to speed up tedious aspects of architectural design.
The Vectorworks division of global CAD vendor Nemetschek remains a small player in AEC, yet is profitable, growing, and innovative.  For years part of its success came from being available—and equally equipped—in both Windows and Mac versions. Even with the move to Intel chips and the ability to run Windows in Mac computers, sales of Mac versions of Vectorworks maintain an even pace at nearly 50% of total seats.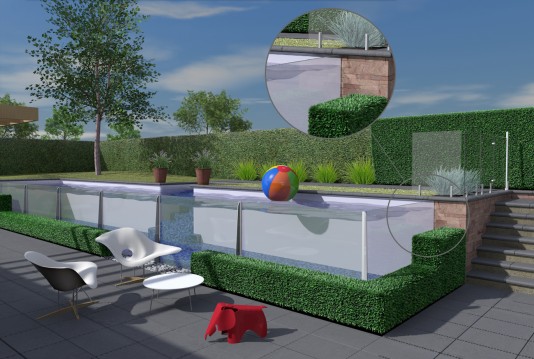 Vectorworks releases its software on an annual cycle, for good reasons. It is easier to get users to upgrade when the changes are incremental, the work load is more manageable, and there is a sense of timing in an annual release that keeps people interested in the product. Vectorworks 2014, which started shipping this week, includes more than 130 improvements developed for improved modeling, BIM management, interoperability, usability, performance, and quality.
New features in Vectorworks 2014 include:
Improved 3D modeling: In previous editions, 3D model interactions in Vectorworks software were typically performed in wireframe mode for the sake of faster use despite its lack of realism. In version 2014 navigation in all 3D views is rendered fast in OpenGL, and users get real-world 3D feedback in all-solid rendered modes. The cache generated in OpenGL also improves navigation in other render modes. Plus, when using the integrated rendering application Renderworks, users receive interactive light aiming and faster OpenGL shadows by default.
X-ray Select: The new X-ray Select shortcut enables users to temporarily see through solid objects in an adjustable area around the cursor.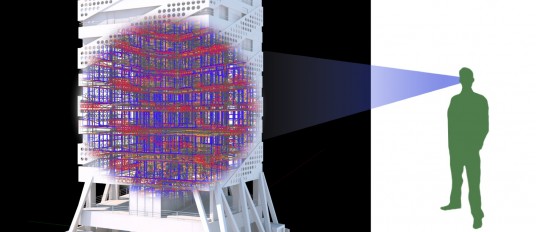 Rotated Plan and 3D views: A new option now exists in 3D views, so users can easily switch between 3D and rotated top/plan views.
Twist tool: A new tool to twist entire solids, solid faces, or NURBS surfaces to a specified angle.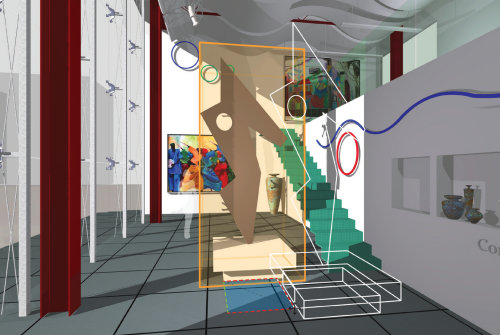 Better BIM: Building information modeling (BIM) brings together design, analysis, collaboration, and documentation. All divisions of Nemetschek have long been an advocate of Open BIM, the umbrella term for supporting the BuildingSmart data model (IFC) and related strategies for ensuring project data is accessible by all players and all technologies. Vectorworks 2013 was certified by BuildingSmart International for BIM data exchange standard IFC 2×3 Coordination View 2.0 for IFC Export in June 2013. Since then, continued improvements to Vectorworks' IFC capabilities have included new IFC worksheet functions, support for IFC zones and IFCXML import/export support. Additionally, users can now directly reference 2D and 3D DWG/DXF or DWF files in Vectorworks projects, making collaboration and team workflows simpler. Also, this release offers better support for complex line types, named colors and mapped fonts for text objects in DXF/DWG/DWF, as well as support of SQLite in ODBC.
Option to flatten design layer section viewports: This new option displays a flattened view of a section viewport on a design layer, similar to a section viewport on a sheet layer. This provides a snappable background for creating section drawings or details.
Connection of duplicated or moved walls: Preserve wall connections after editing. Wall connections are now maintained after a duplicate array, move by points, move, or nudge operation.
Create Section Viewport from the Clip Cube: Users now have the ability to immediately create either design layer or sheet layer section viewports directly from the interactive Clip Cube. Users can create these viewports, as well as edit them using the Clip Cube. This enhancement allows for a more hands-on, visual approach to creating specific sections from a model.
Roof improvements: The Clip Surface command and the Clip tool now add holes directly to roof faces and roof objects. Additionally, users now have individual settings for each roof edge, giving users greater customization of gable configurations.
Transfer space label properties: This feature saves time in larger projects when needing to quickly copy and paste space label properties or create new spaces with the desired default properties.
Viewport marker settings: This feature lets users select their default section marker properties before they create the section viewport, removing an extra step in the process.