Kodak tried and tried to reinvent itself in the digital age, but continues to slide into irrelevance. Selling off the patent hoard will be its final legacy.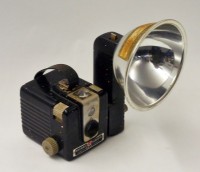 Several outlets (including Wall Street Journal and Bloomberg News) are reporting today that Kodak is preparing to file a Chapter 11 bankruptcy petition.  Shares in the stock (NYSE: EK) dropped 28% to $0.47 in trading today.
The news comes as no shock to observers, who have seen Kodak shrink and flail since the advent of digital photography. Despite owning more than 1,100 digital imaging patents, Kodak has seen the vast majority of its business efforts fall to more nimble rivals and the increased reliance on software as the agent of productivity instead of hardware.  The company, officially known as Eastman Kodak Company, has not turned a profit since 2007.
Today's stock price puts the market value of Kodak at $121.4 million. To put it in perspective, $121 million is less than one fiscal quarter of revenue for Autodesk's manufacturing services division. Kodak is heavily leveraged in debt; five-year credit-default notes on Kodak now trade at a record-setting 70.4% of upfront value.  The New York Stock Exchange warned Kodak
The WSJ report suggests Kodak has been quietly trying to sell its digital imaging patents to companies including Canon, Xerox, and Nikon, but not closing any deals. It seems likely potential buyers smell impending corporate death, and are waiting for a bankruptcy auction to pick up patents at bargain prices.