The benefits of the HP deal are starting to kick in, with sales in Europe double what Stratasys did there on its own.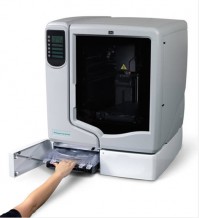 Stratasys, Inc. (NASDAQ:SSYS) today reported third quarter revenue of $30.3 million for the third quarter (ended September 30, 2010), up 24% revenue a year earlier. The higher sales were based on a record quarterly shipment of 631 units, a 39% increase from a year earlier.
Usually the third quarter is the slowest part of the year for Stratasys. The exceptional results were driven by two factors. First, manufacturers are increasing their use of 3D printing as business improves. Consumable revenue was up 34% in the quarter, the fastest quarterly growth rate for consumables in the past three years. Stratasys CEO Scott Crump says all signs point to continued growth in consumables revenue, as existing users continue to increase usage and new users start to buy new supplies.
Second, the deal with HP for selling 3D printers in Europe is starting to generate significant revenue. Stratasys says within HP markets, total 3D printer unit volume, which includes the HP-branded HP DesignJet, expanded by 88% over 2009. "Our game-changing collaboration with HP continues to generate positive results," says Crump. "HP orders remained strong during the third quarter and end-customer demand for their new Designjet 3D printer continued to build."
Cash per share on September 30, 2010 was $1.80, up from $1.55 three months earlier, and $3.30 six months ago. Stratasys moved $36 million into long-term investment in late 2009.
What we think
HP has resurrected the sales plan that took it from zero to the top in large format printing. The HP plan is simple: Find a good technology partner, sell in one market region until you work out all the kinks, and then take it global. It is exactly what is happening in Europe, and the results have exceeded expectations. We expect them to expand sales to at least one other region, probably Asia/Pacific, in 2011.