New report from Jon Peddie Research identifies new opportunities and challenges in photography, video, gaming and augmented reality.
The current marketplace for stereoscopic 3D (S3D) is small but rapidly growing, filled with both opportunity and challenges. Five incompatible markets are emerging on 13 different platforms, according to a new market research study from Jon Peddie Research.
"Stereographic 3DMarket Opportunities"  covers the technologies involved in S3D systems, such as components that constitute a workable S3D system, recent advances in the technologies involved, various traditional and new applications, and global markets for these technologies and applications.
While the big screen generates the big numbers (3D movies in the US grossed over $10 billion in 2011, in a somewhat depressed year for cinema) with just 11,000 screens worldwide, the little screen showed 3D on over 23 million screens in 2011. By "little screen" JPR means not only television but also handhelds and mobile game players. Applications range from entertainment to simulation, visualization, and medical interfaces.
The JPR report says there are seven types of display decoder technologies that deliver S3D on at least 13 platforms, making the combination a potential 91 examples. But not every platform can use every decoder; JPR has determined there are 29 practical combinations (shown in Table 1).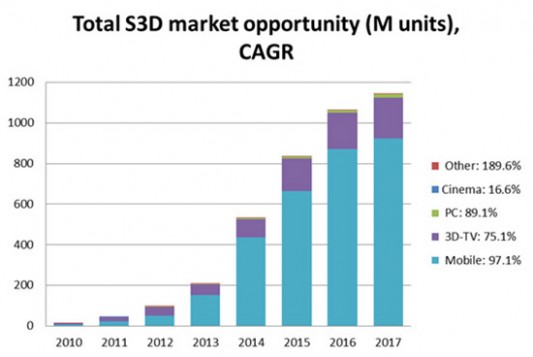 The various platforms have Compound Average Growth Rates (CAGR) from 16% (new 3D screens) to 190% for mobile devices (shown in Figure 1).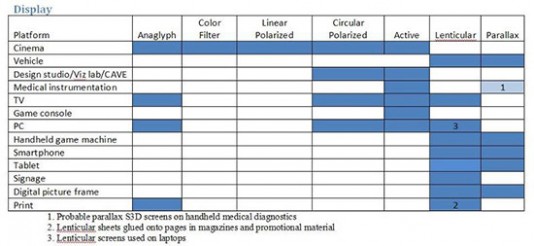 While stereoscopic 3D, also known as stereovision or S3D, has primarily been associated with 3D movies and games, its use is much more far-reaching. Increasingly S3D is used for live concerts and sports events in theaters and streamed to tablets and TVs, uploaded to YouTube and other video sharing sites, and used for stereo photos shown on PCs, digital picture frames, and mobile phones.
S3D is also used in scientific and engineering applications such as display of automobiles during the design phase, in medical study and surgical practice, for molecular study, and astronomical visualization, among many uses JPR has identified outside the realm of entertainment.
JPR sees new opportunities coming with the advent of S3D sensors and displays on mobile devices. The addition of depth information provided by S3D enhances the quality and the quantity of information coming into the device; JPR predicts augmented reality applications will become even more compelling and powerful as a result.
S3D is a component, not an industry, notes the report. Like color, sound, and motion sensing, it is a feature that augments content and makes it richer, but if the content isn't good in the first place, S3D won't help.
The JPR report will be useful for the following:
Manufacturers of S3D systems and components
Systems integrators
Design and application engineers
Various industries and agencies needing S3D systems
Content developers
Investors interested in the suppliers
More information: http://jonpeddie.com/press-releases/details/3d-is-five-incompatible-growing-markets-on-13-different-platforms/