All three major vendors of graphics processors saw declining sales except in their notebook models.
Shipments of graphics processors (GPUs) followed the general PC market during the first quarter of 2015, with lower sales. But GPUs for notebooks bucked the trend, says Jon Peddie Research (JPR) in its GPU market update for the first quarter of 2015.
Overall GPU shipments dropped 13% in 1Q15 from the previous quarter. AMD slipped 17%, Nvidia fell 13.5%, and Intel saw a 12% slip. Year-to-year total GPU shipments dropped 2.9%; desktop graphics were down 12.6%, while notebooks GPU shipments year-over-year were up 4.2% in the first quarter.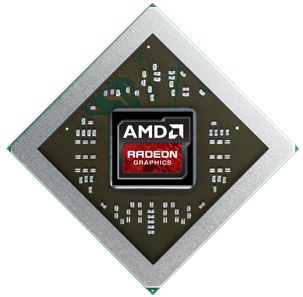 Because GPUs go into every system before it is shipped, GPUs shipments are a leading indicator of the market. Most of the PC vendors are guiding cautiously for 2Q15, indicating GPU shipments may be also be down in the second quarter.
Graphics processors, stand-alone discrete devices, and embedded processor-based GPUs are ubiquitous and essential components in all computer systems and devices today from handheld mobile devices, PCs, and workstations, to TVs, servers, vehicle systems, signage, game consoles, medical equipment, and wearables. New technologies and semiconductor manufacturing processes are taking advantage of the ability of GPU power to scale. The GPU drives the screen of every device we encounter-it is the human-machine interface.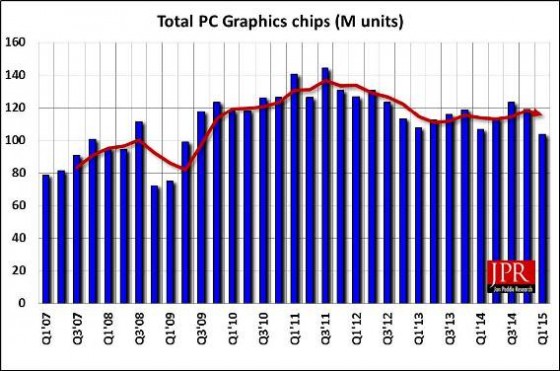 According to the typical seasonal cycles, the first quarter is typically flat to down. This year, shipments were below the ten-year average of minus 3.6%.
Quick highlights from the first quarter:
AMD's overall unit shipments decreased 17.80% quarter-to-quarter; Intel's total shipments decreased 12.01% from last quarter, and Nvidia's decreased 13.5%.
The attach rate of GPUs (includes integrated and discrete GPUs) to PCs for the quarter was 148%, which was up 2.95% from last quarter; 30.57% of PCs had discrete GPUs, which is up 0.39%.
The overall PC market decreased 14.77% quarter-to-quarter, and decreased 6.5% year-to-year.
Desktop graphics add-in boards (AIBs) that use discrete GPUs decreased 8.79% from last quarter, less than the PC market.
JPR says the Gaming PC segment, where higher-end GPUs are used, was a bright spot in the market in the quarter. Nvidia's Maxwell-based AIBs continued to do well and the company even managed to boost its market share in desktop. AMD on the other hand saw an improvement in its market share for discrete GPUs in notebooks even though the overall notebook segment dropped.
The quarter in general
AMD's shipments of desktop heterogeneous GPU/CPUs, i.e., APUs, decreased 22.6% from the previous quarter, and were down 15.0% in notebooks. AMD's discrete desktop shipments decreased 14.55% from last quarter, and notebook discrete shipments decreased 13.6%. The company's overall PC graphics shipments decreased 17.8% from the previous quarter. AMD is bringing out a wide range of new products for this year and hopes to pick up sales from them.
Intel's desktop processor embedded graphics (EPGs) shipments decreased from last quarter by -12.0%, and notebooks decreased by -12.0%. The company's overall PC graphics shipments decreased -12.0% from last quarter. The company's overall sales were helped by devices for new Internet of Things devices but not enough to offset the overall decline of 1Q15 in the PC industry.
Nvidia's desktop discrete shipments were down 6.96% from last quarter; and the company's notebook discrete shipments dropped 20.8%. The company's overall PC graphics shipment decreased 13.5% from last quarter. The company saw strength in gaming from North America and China which helped it buck a down quarter for the industry.
Total discrete GPU (desktop and notebook) shipments from the last quarter decreased 13.66% and decreased 14.28% from 1Q14. Sales of discrete GPUs fluctuate due to a variety of factors (timing, memory pricing, etc.), new product introductions, and the influence of integrated graphics.
Ninety-nine percent of Intel's non-server processors have graphics, and over 66% of AMD's non-server processors contain integrated graphics; AMD still ships integrated graphics chipsets (IGPs).

Graphics chips (GPUs) and chips with graphics (IGPs, APUs, and EPGs) are a leading indicator for the PC market. At least one and often two GPUs are present in every PC shipped. It can take the form of a discrete chip, a GPU integrated in the chipset or embedded in the CPU. The average has grown from 1.2 GPUs per PC in 2001 to almost 1.55 GPUs per PC.
For more information on the JPR report, visit the website.