Is Intel's ISV certified P3000 graphics ready for prime time? Alex Herrera takes a close look.
By Alex Herrera
HP's first foray into integrated graphics for workstations was over a year ago, when the company launched the Z200 workstation. HP built the Z200 around Intel's 32 nm Westmere parts, which were the first to integrate GPU and CPU (two die in a package, instead of one). Now, we think HP offered integrated graphics on the Z200 not because it expected many workstation buyers to be clamoring for it, but because it allowed HP to push down that always very marketable "starting at" price. Without the cost of an incremental discrete GPU, the build cost for the Z200 was (on the order of) $100 less than it otherwise would have been.
Pitching a workstation in the hundreds of dollars (initially $769) makes a lot of sense when trying to attract the very price-sensitive AutoCAD-using segment of the market. But in reality, integrated graphics workstations, including the Z200, lived more on paper than on desks, as HP reported very few machines actually shipped without a professional-branded, discrete GPU attached. Past integrated graphics solutions—while quite capable to satisfy mainstream corporate and consumer users—delivered performance far too meager to support most workstation-class applications.
But that was then; Sandy Bridge is now. Intel made it very clear that dialing graphics up big—more than any typical inter-generational transition—was a top priority for Sandy Bridge. And in terms of FLOPS, transistors and silicon real estate, on paper it looked like it would indeed deliver a big punch. So that said, will a significant number of buyers stick with Sandy Bridge's P3000 integrated graphics when outfitting a Z210, or will nearly all continue take the discrete GPU option?

The rationale behind HP's Z210, along with comparable models from rivals like Dell's Precision T1600, wasn't just plucked out of thin air. While the Z210 will appeal to many with smaller budgets, HP clearly is going after the millions of SOHO and SMB users, those without a lot of IT support who tend to simply opt for a PC, maybe due to a recommendation of a peer or through a lack of awareness of what a workstation can offer. And perhaps most critically, many are simply not aware that workstation prices aren't what they used to be.
The AutoCAD community represents the largest under-tapped group of users, and Autodesk's recent shift to nudge users over to professional-brand graphics cards—by limiting its list of certified hardware to (essentially) Quadro FX and FirePro—gives OEMs another lever to help penetrate this huge pool of potential buyers. Since professional graphics cards ship in branded workstations, not consumer- or corporate-branded PCs, an aggressively-priced workstation makes an enticing option to up-sell that untapped segment on a workstation.
A key to getting the price down near its advertised starting price means relying on the performance of integrated graphics, thereby avoiding the add-on of the discrete graphics card. Of course, that's only going to be feasible if integrated graphics can perform well enough to provide a quality workstation experience, if not for all, then least for an appreciable portion of buyers eyeing lower-end models.
Now we finally have a chance to assess Sandy Bridge graphics in a workstation context. Will it be able to offer credible professional-caliber performance, if not stand on par with low-end discretes?
The specs on our review model
HP loaned us a Z210 SFF system with the Intel P3000 as base graphics, along with an Nvidia Quadro 600 card.
| | |
| --- | --- |
|   | Component |
| CPU | Intel Xeon E3-1245 @ 3.30GHz |
| Memory | 8 GB of 1333 MHz DDR3 (2 GB per DIMM) |
| Disk | 500 GB SATA |
| Graphics | Intel P3000 (integrated) and Nvidia Quadro 600 (discrete) |
| OS | Windows 7, 64-bit |
| MSRP | ~$2,000 |
Configuration specifications for our HP Z210 review machine. (Source: Jon Peddie Research)
The MSRP for our system without the Quadro 600 would be right around $2,000, a price that would put the machine right around the average selling price for a deskside workstation. So while the model starts at a price at the very bottom of the workstation price bands, it is worth keeping in mind our configuration is much more mainstream.
Plentiful I/O, including USB 3.0
As a perceived step up from a consumer or corporate class PC, a workstation vendor must match, if not exceed, the former on I/O. In most cases, they do, with the one notable exception we constantly see: no native HDMI, a common feature in consumer-class notebooks.
But we are talking small form factor, with much less real estate on both the front and back panels as a typical convertible mini tower (CMT). How does the Z210 satisfy on I/O? Well, outside of that lack of HDMI, pretty darn well. (And a disclaimer: we know HDMI is supported via DisplayPort adapter—if you can find one—and we also know many others may not care about hooking their desktop up to big-screen TV/monitors … but we do.)

Four USB 2.0 ports fill out the front, along with mini-jack mic in and audio out. We were happy to see the multi-card reader on the front panel as well. Yes, with most companion electronic devices presenting themselves as Windows drives when plugged in via USB, the card reader is a nice fail-safe when it comes to transferring pictures, music or video. And again, it is one of those things that are common place on less expensive consumer desktops; it is hard to justify omitting them in the pricier workstation.
Take one more look at the Z210's backside. In addition to the motherboard, chassis-fitted USB ports, you'll notice two more on an add-in card (left hand side of image). With so many standard USB ports, why would HP add two more in an add-in slot? To offer USB 3.0, a feature a mainstream PC can't typically justify, but a workstation can. Now, had Intel built USB 3.0 into its Sandy Bridge chipset (as many had speculated and Intel had at one time hinted at), the add-in card wouldn't be necessary. But now USB 3.0 is planned for chipset integration in the Ivy Bridge timeframe, hence making the add-in card (we assume based on an NEC USB 3.0 chip) an extra for Sandy Bridge-based workstations.
Clever tool-less design so valuable in tight quarters
One area where HP made a mark with the Z series in general is in serviceability. Its top-end Z800 not only went tool-less, but made strides toward a near cable-less design. No surprise, the Z800's tool-less and cable-free accessibility can't make it all the way down the price spectrum to the Z210. Price compromises must be made.
But given that we are looking at the small form factor (SFF) version of the Z210, we were intrigued to check out how well HP could engineer in ergonomic serviceability in this package, at this price. In such cramped quarters, a workstation designer needs to innovate in order to allow a user to install cards or swap drives. And while the Z210 doesn't quite mimic the Z800, we were pleasantly surprised at how easy it was to service such a compact design.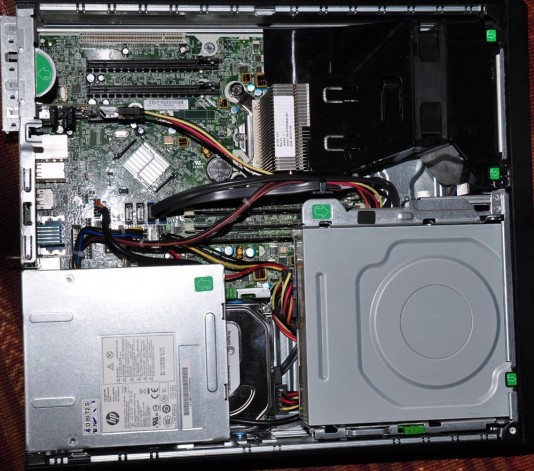 Take swapping out a hard drive. Upon opening the cabinet (with the handle, no screws), we quickly learned the drive was hidden beneath the power supply. Not only that, but the SATA data and power edge connectors were close enough to being tucked underneath the optical drive that getting your fingers on them looked like a tough proposition. The process was looking like it would be anything but straight-forward. It did, that is, until we realized HP designed both the optical drive and power supply to rotate up and out of the way. Presto, the drive and connectors were now easily accessible. Release the drive retention lever (marked by HP's standard tool-less identifiers, green plastic tabs), and up popped the drive. Rather than any snap-in type tray, the drive slips into its enclosure with four screw-in guides, easily swapped from the old drive to the new. Slick.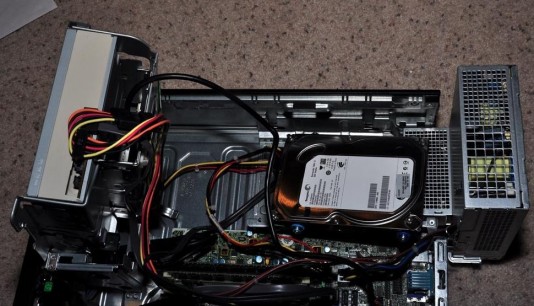 We also needed to get in and add an Nvidia Quadro 600 card to upgrade the graphics over the motherboard Intel P3000. That didn't go quite as smoothly, but still proved to be straight-forward, no screwdriver necessary.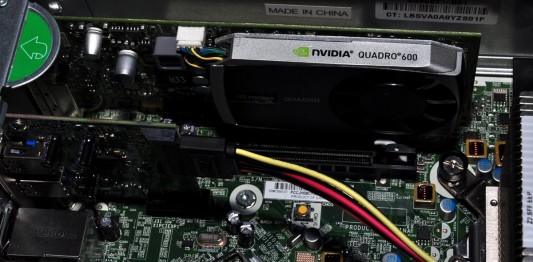 Benchmarking the Z210, Intel P3000 and Nvidia Quadro 600
To assess the Z200's performance we employed many of the same basic tools we have in the past, along with a few new ones. Isolating the graphics, we were anxious to see how Intel's P3000 might fare, particularly in comparison to a low-cost professional add-in card, the Quadro 600.
To address system-level performance, we again tapped a subset of the SPECapc test suite, namely for Lightwave and 3ds Max 2011. The Lightwave benchmark is older but still reliable and we feel representative of Digital Content Creation workloads. SPECapc for 3ds max 2011 is a recent-add on to our test suite, as it was released just this year, compatible with the most recent application version as well as Windows 7, and is a breeze when it comes to both running and assessing results.
But we didn't stop there. We added Cinebench, for a bit more DCC exposure, and Cadalyst's AutoCAD benchmark to get an idea of the machine's capability running the target audience's most popular app.
Benchmarking the Quadro 600 with Viewperf 11
First up was graphics. We ran Viewperf 11 for three iterations on each of the two graphics configuration, first with Intel's P3000 integrated graphics and second with the Quadro 600 add-in card. We also included recent numbers we measured on AMD's FirePro V5900. The comparison is not intended to directly compare the two cards, as their respective price points don't make them apples-apples competition. (For that matter, because it is a full-height card, the V5900 isn't even available on the Z210, or any small form-factor machine.) But sometimes apples-oranges comparisons are interesting as well, especially when they provide an idea of how much incremental performance some incremental dollars can buy.
Not a fair fight: the $170 (ASP) Quadro 600 vs. the $430 FirePro V5900. (Source: Jon Peddie Research)
The first thing a glance of the Viewperf 11 charts might make one wonder is where the results for the P3000 are. Well, we ended up without any, because the P3000 failed mid-test (or more accurately, the P3000's OpenGL driver failed, choking on a vertex buffer call). The second thing is that the FirePro V5900 handily out-performed the Quadro 600. But again, given its substantially higher price, it should.
Weighing these two disparately priced cards in the context of price/performance presents a more interesting, and far more equitable, comparison. Where the FirePro V5900 takes the crown in raw performance, the Quadro 600 nearly sweeps the Viewperf scores / $ race. Both results were in line with expectations. A $430 card should be substantially faster than a $170 card, but we also would anticipate seeing diminishing returns as we run up the price curve.
A more appropriate comparison: price/performance (Viewperf 11 scores / $). (Source: Jon Peddie Research)
SPECapc Lightwave has been a mainstay of our benchmarking suite, for a few reasons: it runs with a trial version of Lightwave; it seems to always work, no matter what version of Lightwave or Windows OS; its interface is clean and intuitive; and its results are easy to compile. Because we've relied on it often in the past, we have a substantial database of historical results to compare against. And the results that are most interesting in this context came from the review we'd done 18 months prior on the Z210's predecessor, the Z200.
How would Sandy Bridge and a new rev of the machine improve upon the previous model? Quite well. For the Multi-task and Render sub-scores, highly dependent on CPU performance, the Z210 achieves slightly better than 2X performance. For the Interactive sub-score, which depends on both CPU and GPU components, the delta is not as great, though the Z210 still comes out substantially ahead. The smaller margin can be explained by the fact that the 18-months-ago system had a mid-range Quadro card, and the current one sports an entry card.
SPECapc Lightwave 3D benchmark results. (Source: Jon Peddie Research)
Where SPECapc for Lightwave is our old standby, we now have a new one to go with it: SPECapc for 3ds max 2011. 3ds max is a particularly interesting application to benchmark on this system, since it crosses over from the DCC to CAD spaces. Released just this year, the 3ds max 2011 test was optimized for 64-bit Windows 7 and is fully compatible with the latest version of 3ds max. Even better, the interface is cleaner and simpler than the previous version, while results analysis (a macro-driven .XLSM file) is the fastest and easiest of all the SPECapc tests. Nice work, SPEC.
Figure 9 SPECapc 3ds max 2011 benchmark results. (Source: Jon Peddie Research)
With the benchmark fairly new, and submissions to SPEC.org very few, it's not easy to judge how well the HP Z210 with the Quadro 600 matches up. The only other results we've seen to date (either ours or submitted to SPEC.org) were generated on high-end graphics cards. They substantially exceed the Quadro 600 in performance, but then so do the prices. On the other hand, it's not hard at all to judge how the Intel P3000 fared. As with Viewperf, the Z210 relying on the P3000 couldn't post a score, because the application failed mid-run.
Fortunately, the P3000 didn't get in the way of completing another CAD-relevant system-level benchmark, Cadalyst 2011 from Cadalyst Labs. For the most part, results from the benchmark were consistent with expectations. The Z210 SFF with P3000 roughly matched the same system with the Quadro 600 on 2D graphics performance, sensible given that 2D operations aren't likely to tax any modern GPU, discrete or integrated. But on 3D, the Quadro 600 shined, outpacing the P3000 by 36%.  The 600's total index exceeded the P3000's by about half the margin it did on 3D, coming in 17% higher.
Cadalyst benchmark results.  (Source: Jon Peddie Research)
By contrast, the Cinebench test didn't quite follow the script. Yes, the Z210 delivered solid results on the CPU subtest, identical with either GPU installed—all good there. But while there was a noticeable delta on the graphics-focused subtest (OpenGL), the leader and laggard were not the ones we figured. The P3000 surprisingly turned the tables on the Quadro 600, as the former nudged the latter by 6%.
Cinebench benchmark results. (Source: Jon Peddie Research)
The final result
This review of the Z210 SFF gave us our first chance to check out the new breed of small form factor workstations. It also gave us our first opportunity to review a desktop workstation based on Sandy Bridge, Intel's latest microprocessor generation that touts big advances in CPU and GPU performance.
HP's work on the design and chassis was typical HP. It was easy to see not only quality engineering, but the attention to the details of the chassis and enclosure. Sometimes we in the IT world get too focused on speeds and feeds and forget about things like ergonomics and aesthetics. Apple doesn't, one of the reason it is where it is today, and neither does HP.
With this machine, HP could not integrate expensive features, as build costs for this market segment are critical. But also critical in marketing a small form factor machine is to make it serviceable, more so than any tower or convertible mini-tower design. The ease in which we swapped out a hard drive, cleanly rotating supply and optical drive out of the way was a perfect example of how seemingly simple devices or tools can make all the difference. We have worked with other chassis designs where we've given up before thinking about swapping a drive.
The small form factor also had us harkening back to the old days when a 'desktop' computer actually lived on the desktop. Ours was laid out horizontally, under the monitor. And while minimizing desktop real estate isn't as big a deal to us, as say crowded financial trading floors or high-priced office space in Tokyo, we still appreciated the ease of access having the machine at desk level and arm's length.
When it came to CPU and system-level performance, the Z210 SFF delivers a solid punch in a small package, thanks to Sandy Bridge and the Nvidia Quadro 600. In fact, we found our results running SPECapc for Lightwave on the Z210 to be a perfect example of Moore's Law, or at least how Moore's Law is often construed. One interpretation of the law holds that silicon-based performance will double every 18 months, and the Z210 certainly adheres. Well, when we compared the Z210 SFF with its predecessor—delivered a quarter shy of 18 months—we saw better than 2X the results. Impressive.
Now our first experience with integrated graphics running workstation applications wasn't as positive. Where applications and benchmarks ran, performance generally paled in comparison to the Quadro 600. And since that card is so inexpensive, it would be hard for all but a handful of professionals to rely on Intel's P3000 integrated solution alone. But that doesn't mean our experience with the P3000 changed our outlook on the prospects for CPU-integrated graphics in workstations; rather, it validated our position. We have never been of the thinking that integrated graphics—be it today's CPU-integrated version or yesterday's incarnation embedded in the chipset—is yet up to professional-caliber snuff for the bulk of workstation users.
Sure, it could suffice for a small subset of the professional user community, those that look to workstations more for their reliability or CPU performance than for visual performance. Think software developers. But integrated solutions have never served more than a small fraction, and while Sandy Bridge's improvements will increase that fraction, its share will remain a small minority.
But just because Intel's P3000 is not quite ready for prime time, doesn't mean we're going to be Intel bashing either. While we don't expect integrated graphics to support many workstation applications today, it doesn't change our outlook that its role will only continue to grow as the industry moves forward.
Alex Herrera is a contributing analyst for Jon Peddie Research.