The astronomical growth in computation graphics technology has created new opportunities far removed from the original objectives.
The market for — and use of — GPUs stretches from supercomputers and medical instrumentation to gaming machines, mobile devices, automobiles, and wearables. Just about everyone in the industrialized world has at least a half dozen GPUs, and technophiles can easily count a dozen or more. The ubiquity and invisibility of GPUs speaks to their success not just in marketing terms but in terms of real contribution to quality of life, safety, entertainment, and the advancement of science.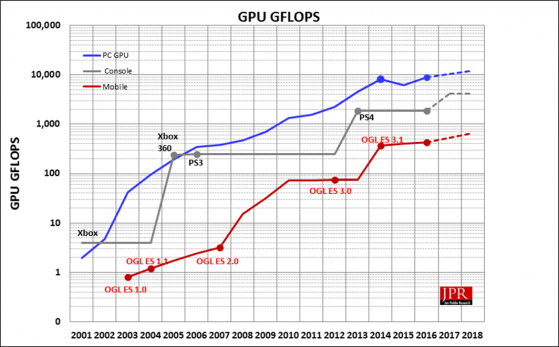 Graphics Processing Units (GPUs or "graphics cards") have found their way into just about every corner of science, industry, design, automotive, and entertainment. GPUs are the heart of the PC's CPU, the soul of any system on a chip (SoC), and the essence of artificial intelligence (AI), and machine learning. There are only nine vendors in the GPU market: Qualcomm, Intel, Nvidia, and AMD design and manufacture GPUs; ARM, Imagination, VeriSilicon, DMP, and ThinkSilicon offer GPU designs.
The GPU has evolved since its introduction in the late 1990s from a simple programmable geometry processor to an elaborate sea of 32-bit floating point processors running at multiple gigahertz speeds. The software supporting and exploiting the GPU, the programming tools, APIs, drivers, applications, and operating systems have also evolved in function, efficiency, and, unavoidably, complexity. The manufacturing of GPUs approaches science fiction with features below 10nm coming in 2017. They're on a glide-path to 3nm, and some think even 1nm—Moore's Law is far from dead, but is getting trickier to tease out of the Genie's bottle as we drive into subatomic realms that can only be modeled and not seen.
A new free whitepaper from Jon Peddie Research explores GPU virtualization as it applies to embedded systems, with a special focus on the automotive market. We will discuss embedded systems GPU virtualization concepts, methods, and current solutions with a forward look to new better performing hardware-based techniques that will exist in the near future.
To download your free copy visit the white papers page of the Jon Peddie Research website.