If you have a small company with a big idea on how to use GPU technology, there might be a check waiting for you at the next Nvidia GPU Technology Conference.
Nvidia wants to hand somebody a check for $100,000. Not just anybody, but the CEO of a small company with a big idea on how to change the world using GPU technology.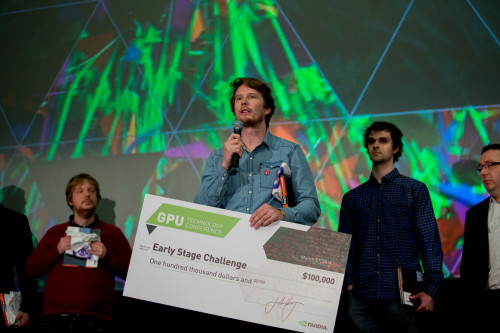 The setting is the 2015 GPU Technology Conference, Nvidia's annual party that celebrates all the ways graphics processing units (GPUs) have revolutionized computation, in ways that go far beyond traditional graphics uses. The event is the Early Stage Challenge, where CEOs get four minutes to pitch their company to a panel of venture capitalists, and then another four minutes to answer questions. The VCs, together with the audience, immediately choose a winner. On the spot the winner is handed a check (an outsized one, just like on TV) for $100,000.
The Early Stage Challenge will take place during the sixth annual GPU Technology Conference (GTC), March 17-20, 2015 in San Jose, California. Last year GTC attracted more than 3,400 attendees from more than 40 countries.
Last year's winner was Map-D a San Francisco-based startup using a high-speed GPU in-memory database to bring interactivity to big data. It can, for example, process billions of tweets in just a few milliseconds and provide real-time visual analysis of the data.
Winning the Early Stage Challenge helped create momentum for Map-D to launch and close its first round of funding of $1.5 million from Nvidia, Google Ventures, and several angel investors.
"The Early Stage Challenge helped us turn the corner in terms of visibility and external credibility," said Todd Mostak, co-founder of Map-D, which is using the new funds to develop the first release of the Map-D big-data analytics and visualization platform. "It was a bit nerve wracking but a great experience for us."
Map-D is not the only startup to get a huge boost from participating at GTC. More than a dozen of those featured in the Early Stage Challenge have gone on to be acquired or to see their business grow exponentially. The list includes Oculus Rift (2013), acquired by Facebook for $2 billion; Gaikai (2012), acquired by Sony for $380 million; and Natural Motion (2008), acquired by Zynga for $527 million.
Nvidia is looking for seed-funded companies which have raised no more than $1 million and use GPU technologies in such areas as computing, visualization, analytics, entertainment, automotive, cloud or mobile. The application form is here.