AMD has invested in this novel approach to telepresence, which allows a presenter to share screen space with pie charts and run the presentation with gestures.
Silicon Prairie startup Nuvixa is gaining attention for its new StagePresence software that uses a Microsoft Kinect Sensor to insert real-time human presence into dreary PowerPoint-based video conference presentations.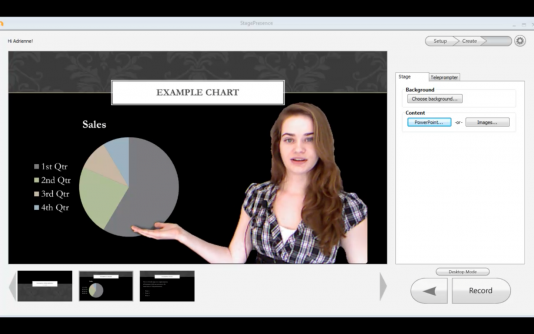 The process sounds simple. Nuvixa StagePresence captures a high-resolution live video of a presenter and overlays it into any presentation or digital desktop in real time, without a green screen or special video editing software. But the technology behind it is a considerable hack (using "hack" in the best sense of the word). Nuvixa takes advantage of the Kinect API, GPU-based processing, and image processing technology in OpenCL. Not only does StagePresence insert the real-time image of a person into a presentation, but also allows gesture-based control over the presentation. Instead of using Kinect to play tennis, now it can be used to flip through pie charts and bullet points.
AMD sees Nuvixa StagePresence as a great use of their accelerated processing units (APUs) which combine CPU processing and graphics on one chip. So this week AMD invested in privately held company, based in Champaign, Illinois.
AMD and Nuvixa are collaborating to optimize StagePresence software on desktop and notebook PCs built with AMD APUs, using OpenCL to tap into both the CPU and GPU cores. AMD says using its APUs allows StagePresence to achieve up to 96% better performance, resulting in nearly double the frame rate possible with the CPU alone.
More information: Nuvixa web site.