Intel says it is the first time it is comfortable saying its built-in graphics are ready for entry-level professional work.
By Andy Patrizio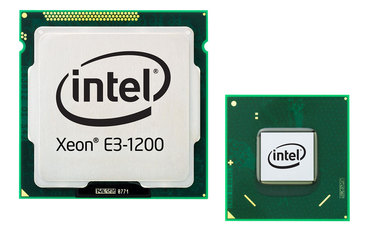 Intel's Xeon processor is looked upon primarily as a server CPU, but the low-end of the line has found a comfortable niche in the workstation market. Up to now, workstation Xeons have been paired with a dedicated professional graphics GPU to serve the CAD/CAM, imaging, and video markets.
With its new Xeon E3-1200 line, however, Intel thinks it might be in a position to save you a few bucks on those GPUs. The new generation, code name Westmere, comes with a fully integrated GPU, the P3000, which Intel is comfortable positioning in the low-end of the workstation market.
Xeon E3-1200 series CPUs are based on the Sandy Bridge architecture and use the same LGA-1155 socket as in the desktop. In theory, Core i5/i7 motherboards for the Sandy Bridge architecture could support the new Xeon.
Sandy Bridge Core-branded processors also have an integrated GPU, the Intel HD 3000. The fundamental difference? Drivers, according to Intel. The GPU is the same, but the P3000 (the "P" means professional) has certified drivers tuned for workstation applications for products like Autodesk Inventor, SolidWorks, and Bentley MicroStation.
In the past, customers may have considered an AMD FirePro or Nvidia Quadro GPU card. For more demanding products like PTC Creo, Dassault Catia or Siemens PLM NX, you would still want a discrete GPU. But Intel feels the P3000 with its tuned drivers can take the place of a FX580 or Quadro 400-level card on lower-end applications.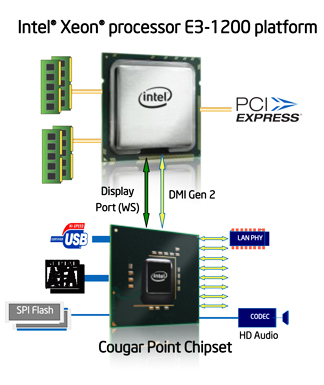 "We wouldn't have recommended workstations using Intel graphics until we got to this version of our graphics," said Wes Shimanek, a product manager with Intel's Xeon line. "This is the first time we're coming out and saying if you are making investments in entry-level professional graphics, you might look at making an investment in Intel's HD graphics."
There are Sandy Bridge-era Xeons coming to market, but they will not have a P3000 graphics core. Intel numbers them as 12×0 (1220, 1230, etc). The workstation Xeons with P3000 graphics will be numbered 12×5 (1225, 1235, etc).
As desktop processors, Xeon E3-1200 have an edge over the Core line in that they offer ECC memory for better memory handling and at the same clock speed. Intel says the Xeons are from 5% to 6% faster than a Core processor.
Andy Patrizio is an analyst with Jon Peddie Research.