HP came to Autodesk University to show off its latest wide-format printer. Editor-in-Chief Kathleen Maher gets up close and personal.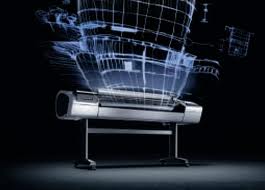 As I approached the HP booth at Autodesk University, I tried to steer a nice wide path around the thing, and I'm wondering, what could be new and interesting about a wide-format printer? I couldn't escape. Those HP people can be pretty determined and, as it turns out, HP is working on something that's going to become very important in the future—ad hoc project lifecycle management (PLM). The aim is to attract companies looking for ways to build functional, useful communication and collaboration backbones from the bottom up rather than from the top down.
HP talked about the combination of their HP ePrint & Share technology in conjunction with the new Designjet T2300 eMFP wide format printer. The new printer is actually a scanner and a printer and it features a largish touchscreen panel for input and monitoring. HP ePrint & Share will be available for all Designjet products. Using this printer, documents can be scanned and uploaded to the web, the PC, or the network so they're accessible wherever they're needed. Likewise, documents from the PC can also be uploaded to the cloud or sent directly to the printer. The software also lets users see how the document is going to look printed out—will it fill the page? Is it too big? The software can alert users that an image is too big and lets them scale it or documents can be rotated to better use the paper.
HP was at Autodesk University because they're offering plug-ins for Autodesk's AutoCAD. In addition, the printers will come with AutoCAD Raster Design. It allows documents to be scanned in and it vectorizes sketches, plans, or blueprints.
For more than AutoCAD
For those not using AutoCAD, ePrint and Share works will work in any print situation using the software as a stand-alone tool rather than plug-in, and we're willing to bet there are more plug-ins to come.
HP is also offering a discounted offer for Softcover's Scan2CAD software. Like the Raster Design tool, Scan2CAD enables users to scan drawings and printouts into DXF files (Autodesk's CAD exchange format supported by most CAD software products). Softcover's technology scans PDF-to-CAD. There's also support for BMP, CAL, CIT, JPEG, TIFF, and PNG. Scan2CAD is available in two versions, Standard ($249) and Pro for ($399).
Cloud print-server

HP is offering its own cloud-based storage for use with the Designjet printers. Like all things cloud these days it's free for now, but the company is considering offering services on a subscription basis down the road. The online software allows users to access documents from anywhere and print to connected printers from anywhere.
What do we think
The world really is changing as a result of cloud computing. Yes, on the one hand it's nothing more than networked computing but with companies like Amazon.com driving the price for web-based storage down to almost nothing, and companies like AMD, Intel, Nvidia, ARM, MIPS, TI, and others looking at creating vast supercomputers in the sky, there really is a lot that can happen. To refer back to our article on Autodesk University, as CTO Jeff Kowalski says, if we can shift the way we think about computing there's a lot of new opportunities lurking up there in the cloud. HP's leverage of the cloud for printing and scanning is a simple example and it's going to be the simple things that change the world.