Great games drove the market.
Sales of add-in boards for computer graphics (AIBs) rose in 2015, drove by the enthusiast (gaming) segment of the market, according to a new market report released today by Jon Peddie Research.
The total number of AIBs sold in 2015 was 50 million compared to 44 million in 2014.  Of these, about 5.9 million were enthusiast level AIBs (add-in boards and discreet graphics cards), compared to 2.9 million in 2014. That rise in enthusiast AIB shipments, while the PC and overall AIB market was declining, was due to several great new games released in 2015. The strong uptick in sales occurred without significant new AIBs introduced in 2015. JPR says this is "paramount proof that the enthusiasts and their followers want, and will pay for, great games and hardware if it is compelling."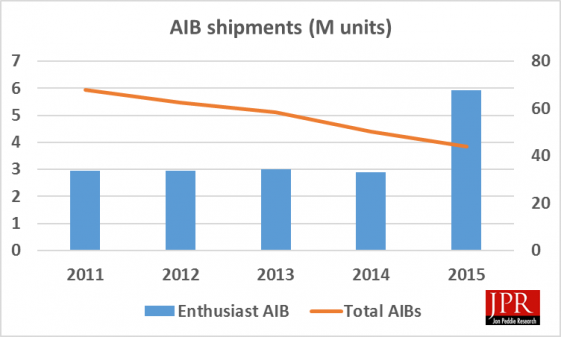 In the fourth quarter of 2015 (ended December 31, 2015) the overall add-in board market decreased 4.9%. AMD gained market share at Nvidia's expense. JPR's estimated PC graphics add-in-board (AIB) shipments and suppliers' market share for 4Q15 is shown in the following table.

The Jon Peddie Research AIB Report tracks computer add-in graphics boards, which carry discrete graphics chips. AIBs are used in desktop PCs, workstations, servers, and other devices such as scientific instruments. They are sold directly to customers as aftermarket products, or are factory installed. In all cases, AIBs represent the higher end of the graphics industry using discrete chips and private high-speed memory, as compared to the integrated GPUs in CPUs that share slower system memory.
Fourth quarter results were not consistent with seasonal patterns. quarter-to-quarter the AIB market decreased 4.9% while the desktop PC market increased 2.0%. On a year-to-year basis, JPR found that total AIB shipments during the quarter fell 7.9%, which is less than desktop PCs, which fell 10.37%. However, in spite of the overall decline, somewhat due to tablets and embedded graphics, PC gaming momentum continues to build and is the bright spot in the AIB market.
More information: http://jonpeddie.com/publications/add-in-board-report/