In the past 12 months AMD has taken 11 points of market share from Nvidia.
New market data from Jon Peddie Research shows that graphics add-in board (AIB) sales are on an upward trend. Shipments during the third quarter of 2016 (ending September 30) increased from the second quarter of 2016 by 38.2%; this is considerably above the ten-year average of 14.3%. On a year-over-year basis, JPR found total AIB shipments rose 9.2%. By comparison, total shipments of desktop PCs fell 17.1% in the same period.
As shown in Table 1, AIB market share is shifting. In the past 12 months AMD has gained 11 points of market share on its rival Nvidia.

Much of the market increase is attributed to gaming; Intel also validated this on their earnings call the announcement of a new Enthusiast CPU. JPR says the new CPU won't show in the overall market numbers, because like gaming GPUs, the gaming PCs are dwarfed by the general-purpose machines.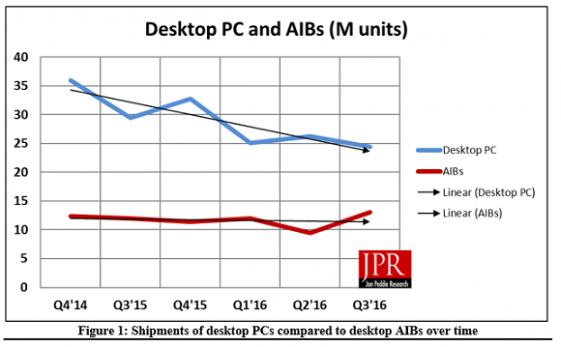 The overall GPU shipments (integrated and discrete) is greater than desktop PC shipments due to double-attach (the adding of a second or third AIB to a system with integrated processor graphics) and to a lesser extent due to dual AIBs in performance-class desktop machines using either AMD's Crossfire or Nvidia's SLI technology.
The attach rate of AIBs to desktop PCs has declined from a high of 63% in 1Q08 to 54% in 3Q16, an increase of 48.7% from last quarter. Compared to this quarter last year it increased 31.7%.