A Battlefield 3 tournament is part of ongoing research into best practices for immersive 3D gaming.
Research into stereoscopic 3D for gaming will get a boost this weekend when thousands of attendees at Fan Expo Canada participate in a Battlefield 3 tournament.
Electronic Arts, publisher of Battlefield 3, is teaming up with Interactive Games Ontario 3D (iGO3D) to sponsor the competition and the research behind it. The goal is to help determine best practices for visually immersive stereoscopic 3D gaming.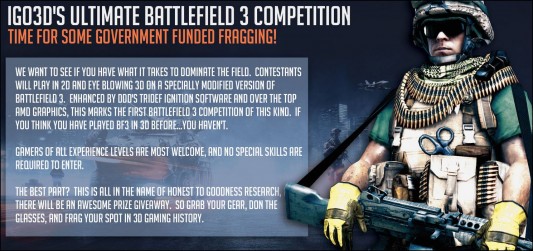 Often referred to as the Canadian  "Comic Con," Fan Expo Canada showcases over 700 exhibitors to over 80,000 fans and sprawls over 400,000 square feet of the Metro Toronto Convention Centre. Held August 23 -26, 2012, Fan Expo Canada is rated the third largest pop culture event in North America.
The Battlefield 3 competition at Fan Expo is unique because in addition to being designed for research purposes, it has never been played like this in tournament form before. While the game already includes stereoscopic 3D support, it has been further enhanced by Dynamic Digital Depth to offer new 3D flexibility and gaming experiences.
If gamers think they have played in a 3D Battlefield 3 tournament before, they need to give it another go at Fan Expo, says Palmer Luckey, founder of Oculus, maker of the Oculus Rift head-mounted display. "It is great to see this important research being done around 3D gaming quality, and I hope that in the future, the work can extend to fringe technologies like virtual reality."
"Among other things, this specially designed gaming tournament will tell us if people can effectively compete in stereoscopic 3D and what factors impact this if any," says  said Neil Schneider, Project Director of the iGO3D initiative. "This invaluable information will help shape future stereoscopic 3D titles so game developers can deliver what customers really want."