More than 1,400 product development professionals, let alone exhibitors, speakers, and press, are assembling this week in the British Midlands. The list of attendees reads like a Who's Who of product design and construction technology innovation.
When CAD journalists Martyn Day and Al Dean and other partners started UK-based Develop 3D magazine a few years ago, holding a conference was the farthest thing from their mind. But after years of attending vendor-sponsored meetings where only a segment of the product design community would attend, the two decided they wanted a venue where the emphasis was on the processes not the tools of any one vendor. The result is Develop 3D Live, a free conference and exhibition, held this year at the University of Warwick in the bucolic Coventry region of the UK, best known as the home of Lady Godiva.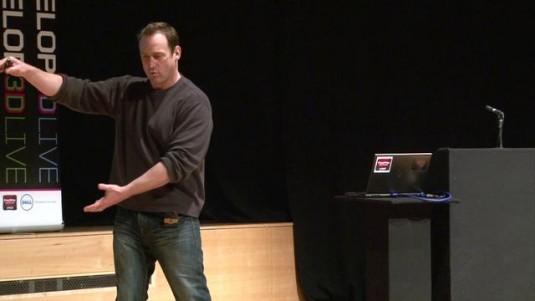 With one day to go before this year's conference,  more than 1,400 attendees have registered. This number does not include the speakers, members of the press and analyst corps, and the exhibitors who sponsor the event, allowing it to be free to attendees. Develop 3D's Day says he expects last minute walk-ups to raise the final attendance count.
The list of attendee company affiliations reads like a dossier on firms known for best practices in product design and construction. The number of AEC-related firms among this year's attendees was a bit of a surprise, Day says, but makes sense as 3D becomes more common in construction. "Proof perhaps that as the AEC market finally moves to 3D, they have more in common with manufacturing," notes Day. "3D printing, laser scanning and cloud computing are certainly cross-platform issues."
Day sorted through the first 500 registered attendees and passed along a few of the company affiliations to us:
Royal Shakespeare Company

Jaguar Land Rover

National Health Service (UK)

Foster and Partners,

McClaren Racing

Aston Martin Lagonda

Adidas

Rolls Royce

Lenovo

HP

Triumph Designs

Formula One Management

Shell UK

Bosch

Her Majesty's Government Research

Marshalls

Volkswagen

Dyson

TATA

Makielab

Airbus

Olympus

Kier Construction
Speakers include CAD industry leaders such as Autodesk CEO Carl Bass, SolidWorks VP Gian Paolo Bassi, and Jon Hirschtick, founder of SolidWorks and now chairman of Belmont Technologies; design technology experts including Joe Graney, director of engineering at Santa Cruz Bicycles, industrial designer Gustovo Fontana, sustainable design expert Dr. Vicky Lofthouse, and many more. Sponsors and exhibitors include Autodesk, Siemens PLM Software, Delcam, 3D Systems, 3D Connexion, AMD, Ansys, VoxelJet, and almost 50 others.
More information: http://www.develop3dlive.com/