Daz Studio 4 is free through August 2011 to help introduce the new approach to creating human models.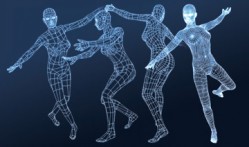 DAZ 3D has introduced a new version of its 3D character creation software for art and animation, and a new open platform for figure creation as part of the software.
The new DAZ Studio 4 is designed for the creation of 3D human models. The standard version is free though August 2011, when an advanced version will be released. The product introduces a new file format, DSF, that utilizes Genesis, an updated approach to 3D character building.
According to DAZ 3D, Genesis works with a common base mesh from which all other 3D figures can be derived. For years DAZ 3D has sold a variety of 3D characters, and will update them in the coming months to Genesis, starting with their popular Victoria base figure. All add-on shapes available for Studio 4 (free or for purchase) utilize the same core rig and 3D mesh of the base Genesis figure from which they are built. Over time an artist can develop a library of figure shapes, which can be adapted for infinite variety.
Daz 3D sees two major advantages in the Genesis approach compared to its older Unimesh technology. First, all the various body shapes can be mixed and matched to create an endless combination of fresh and unique shapes which can wear the same clothing and skin textures. Second, the technology allows developers to support new figure shapes with less time and resources resulting in a larger supply of add-on content for end-users.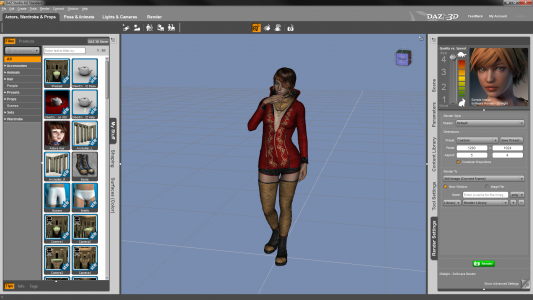 Other major new features:
TriAx Weight-Map System: Artists now have increased flexibility with the new patent-pending weight-map per-axis joint system.
Auto-Rigging: Artists can now take the base Genesis mesh and push or pull it with infinite variety. Both proportions and mass of the figure can be altered. DAZ Studio 4 automatically adjusts the Genesis base skeletal rig to fit within the new shape.
Auto-Fit Plug-in: This tool, available separately, allows customers to up-convert clothes and hairstyles from DAZ 3D's prior generation of figures for use with the new Genesis series so that their past investments are protected.
Smart Content: This new content tells DAZ Studio 4 what type of asset it is, and what other assets are compatible with it. DAZ Studio 4, in turn, can then filter out anything that's not compatible with what the artist is working on.
Content Management Service (CMS): This allows customers to easily find their content by keyword, category and/or compatibility by using a standard meta-data structure.
DAZ Studio 4 is available now for free download in both Macintosh and Windows formats. The Auto-Fit plug-in is priced at $99.95; both are available via the DAZ 3D website at http://www.daz3d.com/studio.
Link to Video: The auto-rig feature allows any existing model to be reshaped without losing the core human shape parameters of the Genesis model. (Video by Daz 3D)