Some scoff at the Schrödinger's Box nature of it, but some serious supercomputing users and investors are onboard with D-Wave's commercial application of quantum computing.
By Kathleen Maher
D-Wave goes beyond the idea of ac­celerating computations the way Nvidia and AMD's GPUs do or like Intel's Phi. D-Wave positions itself as the next step in computing: quantum computing.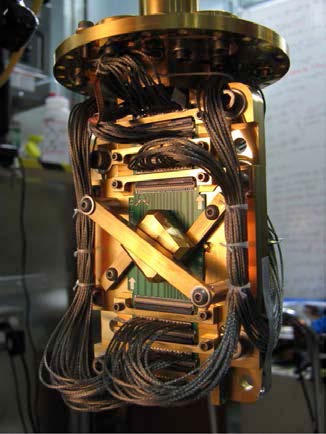 In general, quantum computing has been an idea rather than a reality, but D-Wave is the first company to build a machine that can handle quantum-com­puting applications, and as such it has garnered some criticism for its hubris.
At Supercomputing 2013, D-Wave was pitching their computer as a poten­tial partner for HPC machines to handle the specific tasks that quantum comput­ing is good at compared to the tradi­tional accelerators. As an example, D-Wave says their processor is well suited for problems such as encryption, Monte Carlo sampling, and machine learning. In one concrete example, NASA says they have used the machine for image recognition problems.
D-Wave also has some other powerful relationships. Funders include Amazon's Jeff Bezos and slinky ol' In-Q-Tel, which finds promising technologies for the CIA and other government agencies. Lockheed Martin bought the first D-Wave sys­tem for a reported $10 million and has upgraded to the most recent D-Wave 2 machine. And Google has an instal­lation built in conjunction with NASA and USRA (Universities Space Research Association) to explore the potential for quantum computing.
A quantum computer solves prob­lems using quantum mechanics. It goes down to where the atoms and electrons live because matter operates differently on the microscopic level and 1s and 0s can co-exist simultaneously. If comput­ers today operate using the bit as the smallest unit, quantum computing re­lies on the qubit, where several things can be true at the same time depending on how, or where, you look at it. It's the whole Schrödinger's cat thing—until you look in Mr. Schrödinger's box, you don't know if the cat he put there is alive or dead. Take a peek, and the pos­sibility of multiple results is destroyed. Quantum computing depends on the entanglement of multiple qubits passing around the problem. Quantum comput­ing doesn't provide yes or no answers; it supplies possible solutions for problems where the answer includes a lot of "it depends."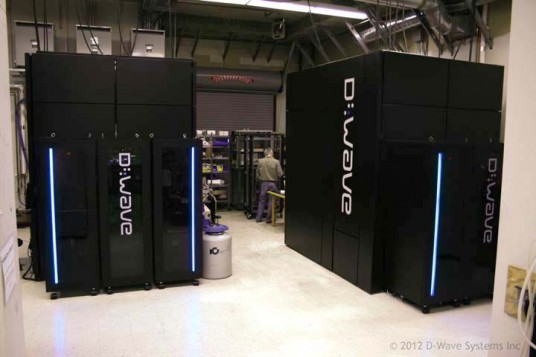 Founded in 1999 in British Colum­bia, D-Wave introduced its first machine in 2011; it used a 128-qubit processor. The latest machine, the D-Wave 2 has a 512-qubit processor. The company sees their system as an accelerating co-processor similar to GPUs and Intel's Phi for "quantum-accelerated HPC." In its current incarnation, it's a huge ma­chine, so rather than a co-processor chip or board, it's a system that's about the size of a pool cabana. The D-Wave enclosure is wrapped in radio frequency shielding, and the processor must be super-cooled. The chips consist of nio­bium alloy loops that trap current either clockwise (0) or counter-clockwise (1). They're linked via superconductors that allow the loops to interact and flip each other—they're entangled. Niobium, if you didn't know, is a super-conductive element that has just about no electri­cal resistance at low temperatures. In the D-Wave box, the qubit processor is cooled to almost absolute zero or minus 459 degrees Fahrenheit.
What do we think?
Before you go any further, have a look at this animation: Quantum Com­puters Animated. It helps … a lot.
So, to get back to the skepticism. The problem is that uncertainty is pretty much the name of the game. The process of solving a problem cannot be stopped and observed because that pretty much kills the cat. Critics say that the D-Wave engineers can't really explain what's going on. Some skeptics claim there is no proof the qubits are actually en­tangled. However, researchers in the Adiabatic Quantum Computing work­shop claim to have produced evidence that there is entanglement.
On the other hand, the willingness of Lockheed Martin, Google, NASA, In-Q-Tel, et al., has encouraged many critics to come around, and in fact, the visit to SC'13 is probably an effort to bring the discussion out into the open. There is a lot of hype attached to D-Wave's claims, which doesn't help. The company is claiming computing speeds 11,000 times faster than conventional computing, but of course this isn't con­ventional computing so the comparisons don't necessarily make sense. Problems have to be translated into the kinds of problems the D-Wave machine under­stands, called NP-Hard Problems (Non-deterministic Polynomial-time Hard). So, we're thinking they're Donald Rumsfeld hard (DR-Hard problems): known unknowns and unknown un­knowns.
This year one of the major themes of SC'13 was the rise of accelerators. The D-Wave promises to open up an exciting new world of com­puting in ways the first computers did for us in the '40s and '50s.