New Apexx 1 breaks the black box barrier and even has a rendering sidekick.
Apexx 1 is an all-new, ultra-small-form-factor workstation from Boxx. It's the smallest workstation Boxx has ever built in it's 15-year history—less than 5 inches wide, 8.5 inches tall, and 9 inches deep. The company claims it is the smallest single-socket workstation available.
Boxx launched two models; one has an overclocked 8-core Core i7 processor at 4.0 GHz with up to 32 GB of DDR4 memory, and the other has Intel Xeon E5-1600/2600 series processors up to 18 cores with up to 64GB of DDR4 memory. Boxx says overclocked Skylake solutions will be available by the end of October.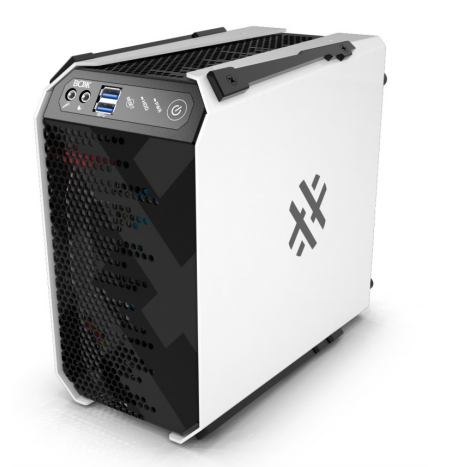 Both models are available with professional Nvidia Quadro and AMD FirePro graphics, optional M.2 PCI-Express NVMe drives, and dual 2.5-inch bays for SSD or traditional HDD drives. The liquid cooling solution is low-profile and of the company's own design. Boxx says it has a blower fan for optimized acoustics under load.
The Apexx 1 is designed to work with, and sit under, Boxx's forthcoming RenderPro, which they describe as a rendering and simulation sidekick to the overclocked Boxx workstation. RenderPro, a personal, deskside rendering product, will feature dual Intel Xeon processors. The overclocked Core i7 8-core version starts at $4,710, and the Xeon E5 model starts at $3,895.