Details are slim but the track record suggests a bold initiative that will blend engineering data with point clouds, with an SaaS component.
Plant design specialist Aveva has released a statement announcing a new software initiative. "The Future of Plant Design" is short on details but long on bravado. Given the company's track record, there is every reason to believe it will raise the bar for what can be expected from plant engineering software in the coming years. Aveva first articulated its vision earlier this month at the ACHEMA conference in Frankfort, Germany.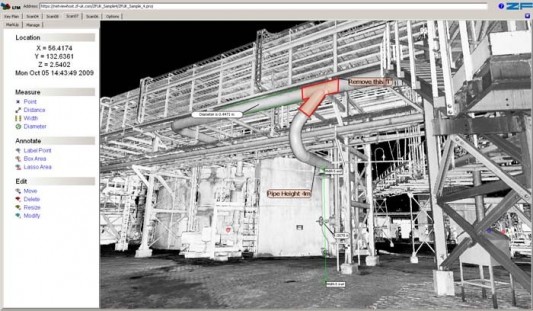 In a statement, Aveva said, "The need to orchestrate engineering skills and management processes to respond faster to changing market conditions has never been greater. With more stringent control over compliance and requirements emerging from the new generation of engineers, Aveva is planning for the future … we believe that plant design software will play a vital role in delivering new levels of design efficiency, collaboration and compliance management to drive competitiveness and sustainability."
Combing through the press release to eliminate the usual hyperbole, some key points emerge.  Aveva will be introducing a new product that updates its PDMS system in several key areas:
3D modeling capability will offer "real world" representation quality, combining engineering graphics with laser scanning point clouds;
2D drawing production will be automated as a part of the 3D design process;
Interoperability with other design systems will be a core feature
The new product will support project re-use and modular design
Point cloud data will be harnessed for dimensional control in construction.
Aveva took a jab at competitor Intergraph in its announcement, saying "we will be doing this in such way that is interoperable with our existing PDMS product." Intergraph's SmartPlant initiative was initially not compatible with is market-leading PDS software when it was first introduced several years ago.
The stronger the database, the stronger the software
Aveva was founded by a team of researchers at Cambridge University who created a multi-purpose, multi-dimensional database management system which lent itself well to managing three-dimensional engineering data. Throughout the company's history, first as CADCENTER (founded 1968) and then as Aveva (renamed in 2001) the same database system has remained at the heart of all the company's products. The same research effort also was behind the founding of the Medusa CAD system popular in the 1900s, and the Smallworld GIS software later acquired by GE.
By pre-announcing a new software product as "The Future of Plant Design" Aveva is setting a high bar. It claims the new product "will be set up in days, not months" as is now the case with existing plant design systems from Aveva and its chief rivals Bentley and Intergraph. This suggests a significant role for cloud-based operations, either in data storage or an architecture based on a Software as a Service (SaaS) approach. Launching a new product also makes it easier to integrate several recently acquired technologies, including the Z+F point cloud data management architecture that will undoubtedly be playing a major role. When Aveva acquired the technology October 2011 it said, "They're absolutely on the leading edge and we want to build on that."
The new product will debut at Aveva's user conference in Paris this October, with a first release planned for December 2012.