Studio Clouds edits point clouds for use in 3ds Max and Maya and displays with game engine speed. Everyone is being tight-lipped about the deal.
Autodesk made a stealth acquisition today, scooping up Netherlands-based Alice Labs. The small team, closely related to ongoing research at technical universities in Delft, Netherlands and Ghent, Belgium, has previously released Studio Clouds, an innovative 3D laser point cloud editing technology that offers plug-ins for Autodesk's 3ds Max and Maya modelers, and uses a proprietary game engine for fast manipulation of point cloud data.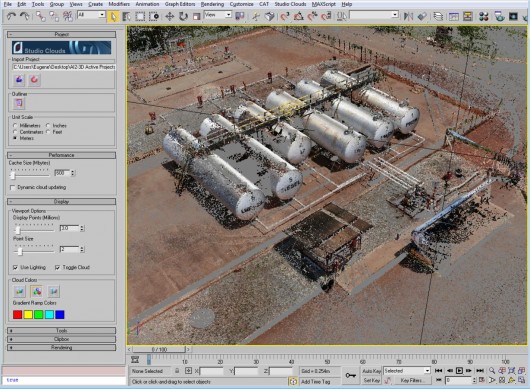 The first indication something had happened was when users noticed this morning the Alice Labs website had been taken down, replaced with a brief message: "Autodesk has acquired technology from Alice Labs. Customers needing maintenance or support should send an email to [email protected]." Autodesk did not issue a press release, but when pressed, provided GraphicSpeak with this statement: "Autodesk has acquired technology assets and hired individuals associated with the Alice Labs technology." An Autodesk representative says the company does not wish to speak further about the matter at this time, but make the point of saying Autodesk continues to be about the business of making design technology accessible to a wide audience. "We want to deliver best-in-class solutions, and that includes the reality capture space," said corporate PR manager Michael Oldenburg.
Alice Labs first shipped Studio Clouds in 2009. There is a stand-alone application and a series of plug-ins, including connectors for import to 3ds Max and Maya. Various YouTube demonstrations show Studio Clouds quickly moving a model made from more than 190 million points. The basic package offers a variety of simple Photoshop-like features for color manipulation, boundary details, and other tools necessary to put 3D point cloud data to work in non-traditional applications such as animation or game creation.  A researcher known on YouTube as ForensicAnimations called the free Studio Clouds viewer "a really nice tool."
Behind the application is the Mirage Nova Engine (MNE), said to be capable of handling billions of points with ray-trace visualization quality. NME also offers a photogrammetric tool, offering an affordable way to generating high fidelity point cloud models from photographs. MNE is designed for 64-bit multi-core architectures and can take advantage of graphic card acceleration for maximum speed.
Studio Clouds will be the second photogrammetry technology Autodesk has acquired, the other being Project Photofly, currently in Autodesk Labs.
The most recent statement from the company about its future came in June when it said on its website: "Since the beginning of 2010 Alice Labs has been doing research into developing the next generation of the point cloud engine. It represents a whole new way of visualization and processing which will enable a massive speed up of data processing."