The free engineering app so popular with students and pros alike is now in the Android store.
When Autodesk launched ForceEffect—a free mechanical engineering conceptual simulation app—on Apple's iOS platform last November, it was an instant hit among students, professional engineers, and hobbyists. But one comment kept appearing in social media: "I want this on Android!" It seems their wish is Autodesk's command, as ForceEffect can now be downloaded from the Android app store.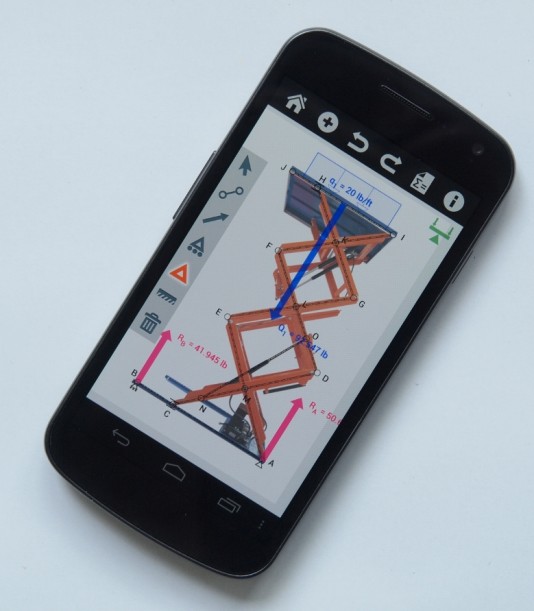 Essentially, ForceEffect replaces the slide ruler, protractor and manual calculations that engineers have relied upon for years; Autodesk likes to say ForceEffect represents "the next evolution of engineering technology." So far the app has been downloaded over 100,000 times for iOS; Autodesk expects a similar adoption rate for the Android version.
There was no real surprise in the release of ForceEffect for Android; it becomes Autodesk's 11th app on the open source platform from Google used on a variety of smartphones, tablets, and netbooks. The complete list of Autodesk Android apps:
SketchBook Mobile ($1.99)
SketchBook Mobile Express (free)
SketchBook Pro ($4.99)
SketchBook Express (free)
Pixlr-o-Matic (free)
AutoCAD WS (free)
Design Review Mobile (free)
Inventor Publisher Review (free)
Autodesk AREA Mobile (free)
Buzzsaw (free)
ForceEffect (free)
Older GraphicSpeak articles on ForceEffect:
Autodesk adds force simulation to iPad lineup
Autodesk ForceEffect Motion extends mobile simulation