Autodesk made its annual pitch to the media this week in San Francisco, and threw out a lot of numbers. When we parse the numbers, the picture emerges of a company happily running as fast as it can to transform digital art and design.
There is a shift taking place in Autodesk's public messaging. For years the story at Autodesk Media Day or Autodesk University was always the same: Look at our great new features, look at our new products. While Autodesk still debuts new products and adds features to existing ones, the shift is clearly toward selling the big picture of how technology is transforming digital art and design.
This week Autodesk senior executives gathered an international technology press corps in San Francisco and painted a rosy picture of what Autodesk accomplished as a business last year and what it intends to accomplish as a digital graphics toolmaker in the year ahead.
Instead of the typical narrative, we will break down the Autodesk story by looking at the numbers dished out by CEO Carl Bass and his senior team. In order as drawn from a hat, here goes.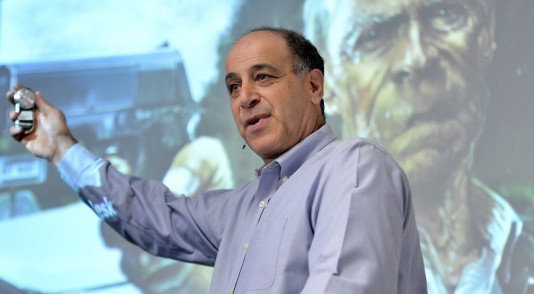 Business numbers
10: At the start of fiscal year 2012 (which ended January 30, 2012), Autodesk told Wall Street it expected revenue to grow by 10%.
14: Annual revenue actually grew by 14% in fiscal year 2012. "Mid-teen results in not-so-fantastic times," says Bass, who described business as robust in all regions. Bass says selling products in three very different markets—construction, manufacturing, and media/entertainment—makes Autodesk results a good barometer of the global economy.
2: Two years ago at Autodesk University Bass gave a presentation about the big changes he saw coming in computing platforms, and how it would change the way Autodesk customers do their work. The themes were two-fold: social collaboration and infinite computation (an Autodesk term for cloud computing).
3: Now Autodesk talks about the three-fold changes rocking digital design and art: social, cloud, and mobile. "This is a fundamental shift in how people will do design," Bass says. "This is the most important shift since the change from mainframes to PCs, bigger than the switch from DOS to Windows."  
30: 2012 marks the 30th anniversary of Autodesk.
12,000,000: During those 30 years Autodesk sold products to 12 million users. This number is higher than the number of users of all Autodesk competitors, combined.
60,000,000: The high estimate of how many people have used Autodesk products, based on piracy rates, in those 30 years.
600,000,000: Autodesk derived $600 million in revenue from sales of its new suites during fiscal year 2012. Bass says the ability to buy a whole suite of software tools for the price of one program from its competitors is causing businesses to re-evaluate how they buy software.
24: Bass credits suites for a 24% increase in deals over $1 million during FY 2012.
70: In fiscal 2012 70% of Autodesk revenue came from outside the US. Top markets are the G8 nations, but the BRIC group (Brazil, Russia, India, China) is the fastest growing. It might have to become BRICT soon; Bass described Turkey as "going wild." (Yes, a member of the press in the audience did crack a "Wild Turkey" joke.)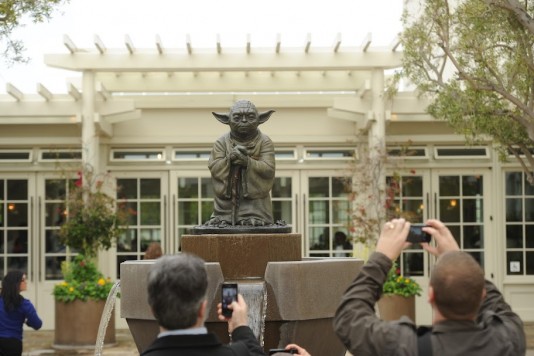 Cloud numbers
7,000,000 and 58: The number of downloads of free AutoCAD WS in the last two years; more than 58% of the number of users it took 30 years to gather.
300,000: Every week 300,000 drawings are uploaded to the AutoCAD WS cloud. To break it down further, that's 1,800 per hour, or 30 files a minute.  Sure, there are a lot of people who download AutoCAD WS, use it once, and then remove it from their smartphone or tablet. But those statistics clearly show some people are being mobilized in their use of DWG drawings; the trend will only continue and grow.
150,000: Every week there are 150,000 downloads of Autodesk SketchBook, a freehand drawing tool for smartphones and tablets, PCs and Macs.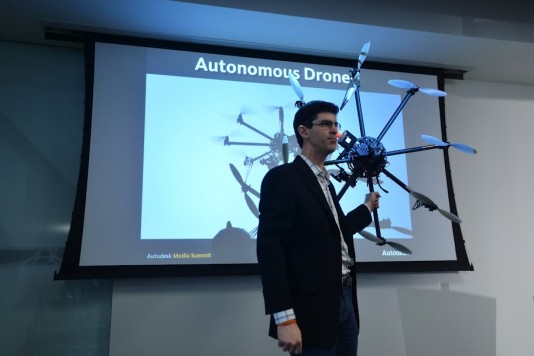 2x: When Apple showed a new version of SketchBook during the recent unveiling of the new iPad with Retina Display, downloads of SketchBook doubled.
13,000,000: Late in 2011 Autodesk acquired Instructables.com, a community-based website for do-it-yourself (DIY) types. In February 2012 it had 13 million unique visitors, more than Pinterest, Instagram, and Foursquare combined.
65,000, 6, and 20,000: Anybody who joins the Instructables community may post an "Instructable," a how-to guide. There are currently 65,000 Instructables, by 20,000 authors, in six categories: Food, Living, Outside, Play, Technology, and Workshop. Authors include Carl Bass.
1,000,000: Instructables.com is the new centerpiece of an emerging consumer market for Autodesk, a market with much smaller margins but millions more customers. If you add up all of Autodesk's web sites, for all tools and properties, it comes to 1 million unique visitors per day. "We use the knowledge from Instructables to power all our consumer experience," says Bass.
21,000,000: Another 2011 acquisition was Pixlr, a web and mobile photo editing tool. The web site is now getting 21 million unique views per month.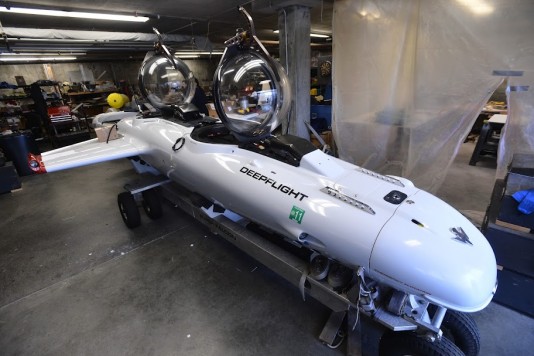 Technology numbers
2,000,000: Autodesk introduced its new PLM service on Leap Day; there have already been 2 million unique visitors to the Autodesk 360 PLM website. The service is free to download, and up to three unique registered users may share use for no charge.
0: Autodesk is introducing zero-click workflow synchronization between products this year. As an example, the company demonstrated live linking between Maya and Motion Builder. With both products on the screen, when a change was made to a model in one product, the same data in the other product immediately updated; no re-generation of any kind required in either program. Spin a model or move a character in one product, and the same data in the other program moves right along.
3: Autodesk continues to push cloud computing. Not because there is something magic about the cloud environment, Bass says, but because Autodesk is promoting increased utility by applying cloud technology where it thinks it makes the most sense. Autodesk uses three words to describe the cloud advantage: find (content), connect (collaborate), and crunch (heavy-duty processing for simulation).
200+: Autodesk Exchange is a new web-based source for free or paid utilities from its army of development partners. Since launching in mid-2011, developers have listed more than 200 apps on the site. Autodesk approves apps for product compatibility before they are allowed on the site, but does not take a revenue cut (as Apple does with iTunes).
200,000: Autodesk quietly introduced a cloud-based rendering service for Revit users on subscription during 2011. More than 200,000 models have been rendered so far.
22: The rate of Revit models submitted for rendering is growing by 22% per month. Autodesk will expand the availability of the service to users of other products in 2012, starting with Inventor.
Infinity: Autodesk likes to describe cloud computing as infinite computing. During 2012 it will be exploring how to price user access to cloud resources, giving some access to all users but better deals to its subscription customers. A wide variety of simulation products will be on-call by the end of the year, including structural analysis, Green Building Studio, Moldflow Insight, and other services, in addition to the expansion of rendering mentioned above.
The sum of it all
All these numbers add up to an Autodesk that comes across to this reporter as having more fun than a software business should be allowed. I have been keeping an eye on Autodesk since 1985, from the various viewpoints of competitor, employee, and journalist/analyst. I have never seen this company so focused, so exuberant, and so passionate about making a difference in the markets it serves.
The cloud initiatives come across as pragmatic and appropriate, not grandiose. The growth in web services is amazing, not only because of the numbers so far but because how the numbers will surely grow in 2012.
In future articles GraphicSpeak will explore the new features in various Autodesk products; but we can give an easy preview right now. Expect mostly speed and user interface improvements, not a bevy of new commands.  And a boatload of social, cloud, and mobile.