We can now say all that talk of 3D "killing" 2D was just nonsense; Graebert and its competitors keep improving 2D CAD.
Graebert GmbH today releases its 2014 edition of Ares Commander, a 2D/3D CAD product based on the DWG standard established by Autodesk. Unlike its rivals, Ares is shipping today in Windows, Linux, and Mac versions.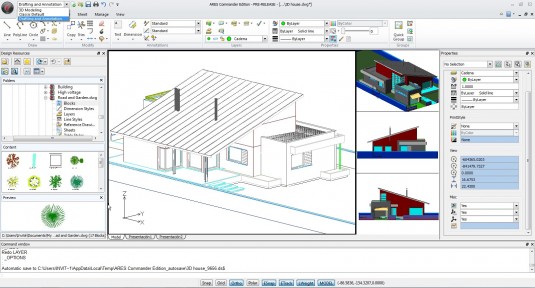 Graebert sells Ares Commander as a retail stand-along product, but also provides it as the foundational engine for CAD products from other vendors. The two best known brands using Graebert technology for 2D CAD are Dassault Systemes DraftSight and Corel Software CorelCAD.
ARES Commander includes a full set of features to create and modify 2D or 3D drawings directly in DWG (any version of the DWG file format up to the latest 2013 release). Major new features in this update include:
New user interface ribbon bar for Windows as well as Mac-specific UI/UX
A variety of performance improvements based on software optimization
New design resources palette (aka Design Center in AutoCAD)
Layers and entities transparency
New productivity features for layers
Drawing Standards verification and support for .DWS files
PDF import
Quick grouping and ungrouping
Support for the Collada data exchange format and Cadenas parts.
In this era of tablet apps disrupting software pricing, Graebert is responding with options that include a traditional perpetual license. Ares Commander is for sale for 795 in both Euros and US Dollars, which includes one year of maintenance and €/$199 for every year thereafter.  New pricing options include an annual plan at €/$250 per year that is all-inclusive as well as a flex license option that adds 25% to the cost but allows licenses to be shared across any OS or to be borrowed as needed.
Our take
In the first decade of the 21st Century, I was as guilty as any of my colleagues in world of CAD punditry for predicting the decline and eventual demise of 2D CAD software. Instead, 2D drafting technology has proven to be resilient, continuing to meet the need for millions of design and engineering professionals. 3D is the preferred tool for initial design, and complete product definition in manufacturing, but there are still good reasons to create precise descriptions using two-dimensional drawings.
Autodesk's AutoCAD still leads the market, for the same reason nobody got fired for buying mainframes from IBM 30 years ago. But Graebert, Bricsys, IMSI/Design, ZWCAD, and NanoSoft, among others, continue to make a good living selling 2D CAD programs all based on the DWG file format popularized by Autodesk.   The market for 2D CAD is booming in China and India; Graebert is building a presence in India to serve rising demand.  It is a safe bet that a decade from now these companies will still be selling 2D CAD technology.