"Licensed to Cure for Medical Device" is one of three mash-ups of Dassault Systèmes PLM products specifically for medical product development.
A proton beam therapy device maker is the newest announced customer for one of the Dassault Systèmes new line of PLM products—but you will never see Dassault refer to the product as PLM. Ion Beam Applications SA, will use Dassault's "Licensed to Cure for Medical Device." The sale is surely gratifying to Dassault, which is turning away from talking about its products as PLM—Product Lifecycle Development—even as they continue to market and sell software that does PLM.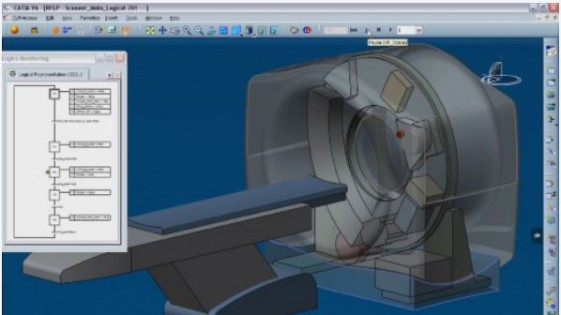 DS now refers to its PLM line as the 3D Experience Platform, to stress the visual aspects of product development. In the press release announcing the purchase, the vendor and DS describe how the product will be a "single unifying development framework" for producing a series of proton beam products.
All the details of the marketing language describe benefits long ascribed to PLM. But Dassault Systèmes is taking great pains to no longer describe its products in traditional PLM terms. The more inclusive language of "3D Experience" is a better sell to the C level decision makers.
Dassault has differentiated itself from its competitors by aligning its products more tightly with targeted industry groups. The product Ion Beam Therapy is buying comes from Dassault's Life Sciences group, which also lists two other "industry solutions" in the portfolio: Licensed to Cure for BioPharma, and Ideation & Concept Design for Medical Devices.
The three-letter acronym did find its way into the Dassault press release once, in the title of the person at Ion Beam Therapy quoted about why IBT went with Dassault. "With 'Licensed to Cure for Medical Device' we will have a single unifying development framework in which we can capitalize all our data, processes and methodologies for future reuse, and from there improve the productivity of all downstream processes." said Thomas Canon, PLM Program Manager at IBA. Sure sounds like the description of a PLM system to use.
What do we think?
PTC is expanding the notion of PLM buy moving into software that helps manufactures beyond the sale, and by embracing the rising Internet of Things. Dassault is moving away from selling to engineers with its industry-specific mashups of PLM that still do all the things PLM is supposed to do. That leaves Siemens PLM alone among the Big Three still selling PLM software as a tool for product development, without the embellishments or added markets. It will be interesting over the next few years to see how these new approaches work out.