Vico Software links time and cost to a BIM model, and comes with a seasoned management team.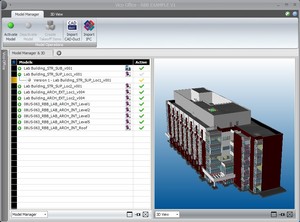 Today Trimble (NASDAQ: TRMB) announced it has acquired Vico Software, a venture-capital-funded, privately held software and services company offering a model-centric approach to construction project management. Vico joins a growing list of firms Trimble has acquired as it assembles a construction-facing approach to building information modeling (BIM).
Trimble says Vico will become the connection point linking data from Trimble's various hardware and software solutions to improve cost management and scheduling on complex construction projects. Terms of the deal were not announced.
Our take
Vico was established in 2007 during the peak of the BIM hype boom, and has been slowly growing since. The Great Recession was a depression for construction, and Vico suffered along with the industry it serves. To this day Vico software has only been used on hundreds—not thousands—of projects. When Google acquired SketchUp (now also a Trimble BIM acquisition; perhaps we should call them all BIMbles) CEO Mark Sawyer went to work for Borealis Ventures, one of the VCs invested in Vico; Sawyer then moved on to become Vico's CEO.
To keep both the company and its 5D vision alive (3D BIM plus time and cost), Vico turned to consulting on large construction projects. This was also a successful strategy for Gehry Technologies—another high-end BIM firm that found more money in services than software.
The seasoned management team behind Vico will be as important as the software going forward. Before SketchUp, Sawyer rose to become a vice president at Autodesk, and then was a VP at Graphisoft. Don Henrich also worked at Graphisoft, spent time at PTC, and was a co-founder of MatrixOne, acquired by Dassault Systèmes for its sophisticated CAD data management. Olli Seppanen, Ph.D. is another Graphisoft veteran, via its acquisition of his construction management startup Dynamic Systems Solutions.