The new industry group will manage the future of 3D PDF and advocate for its increased use in engineering.
The evolution of 3D PDF as a standard for technical graphics took another step this week with the formal incorporation of the 3D PDF Consortium. Membership in the new group is open to software developers and other companies with an interest in the future of 3D PDF, including end user organizations.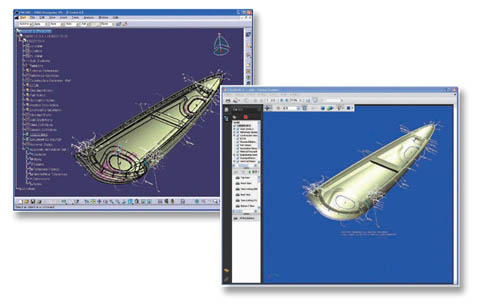 Founding members of the 3D PDF Consortium include:
PROSTEP AG, a vendor of interoperability software for manufacturing;
Tech Soft 3D, the company that acquired the development and resale rights to 3D PDF from Adobe;
Adobe, the creator of 3D PDF;
Tetra 4D, exclusive provider of 3D PDF technology for Adobe Acrobat Pro.
The consortium's state mission is to "encourage the continued development and adoption of 3D PDF as a truly open standard for visualization, collaboration, data exchange and the long-term archiving of 3D data across multiple industries and disciplines."
The consortium will continue to manage 3D PDF through the International Standards Organization (ISO) process, specifically ISO 32000. ISO certification is of high importance to many of the manufacturers who have adopted 3D PDF, because it makes the format suitable for long-term archiving of engineering data. Boeing, for example, uses 3D PDF for all documentation on their 787 Dreamliner project.
The groundwork for the organization was laid in April 2011 with a meeting of interested parties at COFES, the annual Congress on the Future of Engineering Software. The ad hoc group formed spent the rest of 2011 taking care of the business and legal details to get the consortium up and running, including hiring David Opsahl, former CEO of engineering software vendor Actify, as executive director.
The 3D PDF Consortium will hold its first annual meeting in May in conjunction with the 3D Collaboration and Interoperability Conference (3DCIC) May 21st – May 23rd in Denver, Colorado.