They all play to win in the battle for content and subscribers.
By Andy Marken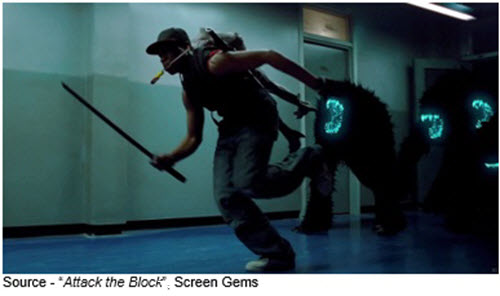 "Look, whatever they are, they're inside the Block now. They're after everyone." —Jerome, Attack the Block, Screen Gems, 2011
Reed Hastings once told us that Netflix's only competition was sleep, and we believed him… until we didn't.
While we blissfully watched the new shows and movies that he and Ted (Sarandos) pumped out, the two were expanding around the globe (now available in 190-plus countries), making sweetheart deals with governments and studios, such as the recent one with France. No, the agreements weren't nefarious. To the contrary, they were good for countries, local studios and indies, local viewers, and the rest of us who accepted their first monthly price increase since 2020.
Price increases were something we had become accustomed to in the old cable bundle days, which was why we cut them off; but the increase was only $1 to $2, and they don't have advertisers to pay part of the tab… so it's different for the time being.
In addition, Netflix agreed to show 25–30% of French content in the country, and obviously they're hoping they discover some projects that will resonate with subscribers here and abroad, like Squid Games, La Casa de Papel (Money Heist), Atelier, and more. France sweetened the deal by cutting its theatrical window by more than half (36 months to 15), and the local industry will probably now be more receptive to Cannes Film Festival submissions (which got the cold shoulder before the deal).
Netflix has learned to embrace local projects because production is usually much less expensive outside the Americas, and fantastic pre-production through post-production talent exists everywhere. And good films and shows resonate with global audiences, no matter where the projects are made.
That strategy apparently has worked because while Netflix was, and is, founded on technology, it has become a major content producer. This year, they will probably turn out nearly 400 original shows that will feature increased diversity, greater volume of international work, broader spread of genres and, yes, video games from their acquisition last year.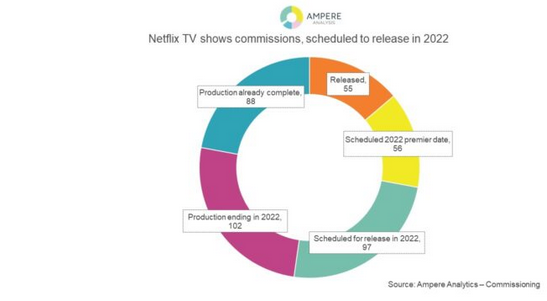 Why so much? First of all, it's because they need to sate the voracious entertainment appetite of its over 220 million subscribers, minimize churn, and grow again.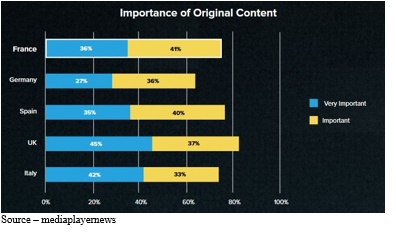 The former Red Envelope company found out long ago that people like, want, and need new, original content. At the same time, they stick around for the library of excellent and familiar movies and shows.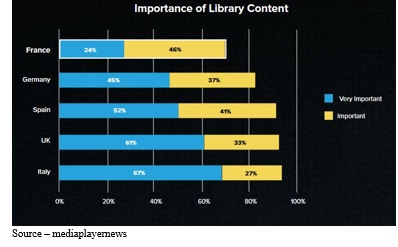 Content development, production, and distribution have become big business around the globe. China became the world's largest movie market last year at $3 billion, nearly $1 billion more than the Americas.
China built more than 20,000 screens over the past three years, giving the country a total of 75,000 screens—double of those in the Americas, whose numbers are declining. In addition, the theaters opened sooner than in the ROW (rest of world), accelerating the Chinese industry's growth timeline by 5–10 years.
Of course, the rigid governmental control over films and shows that appear on Chinese screens has also caused headaches with studios, content producers, and streamers elsewhere. While projects like Spider-Man: No Way Home, No Time to Die, The Matrix Resurrections, Dune, and others were either prohibited for Chinese exhibition or suffered from negative audience response, they did exceptionally well with the pirate viewing population. Chinese censors either blocked or required heavy editing of Western films that did appear on the country's theater screens.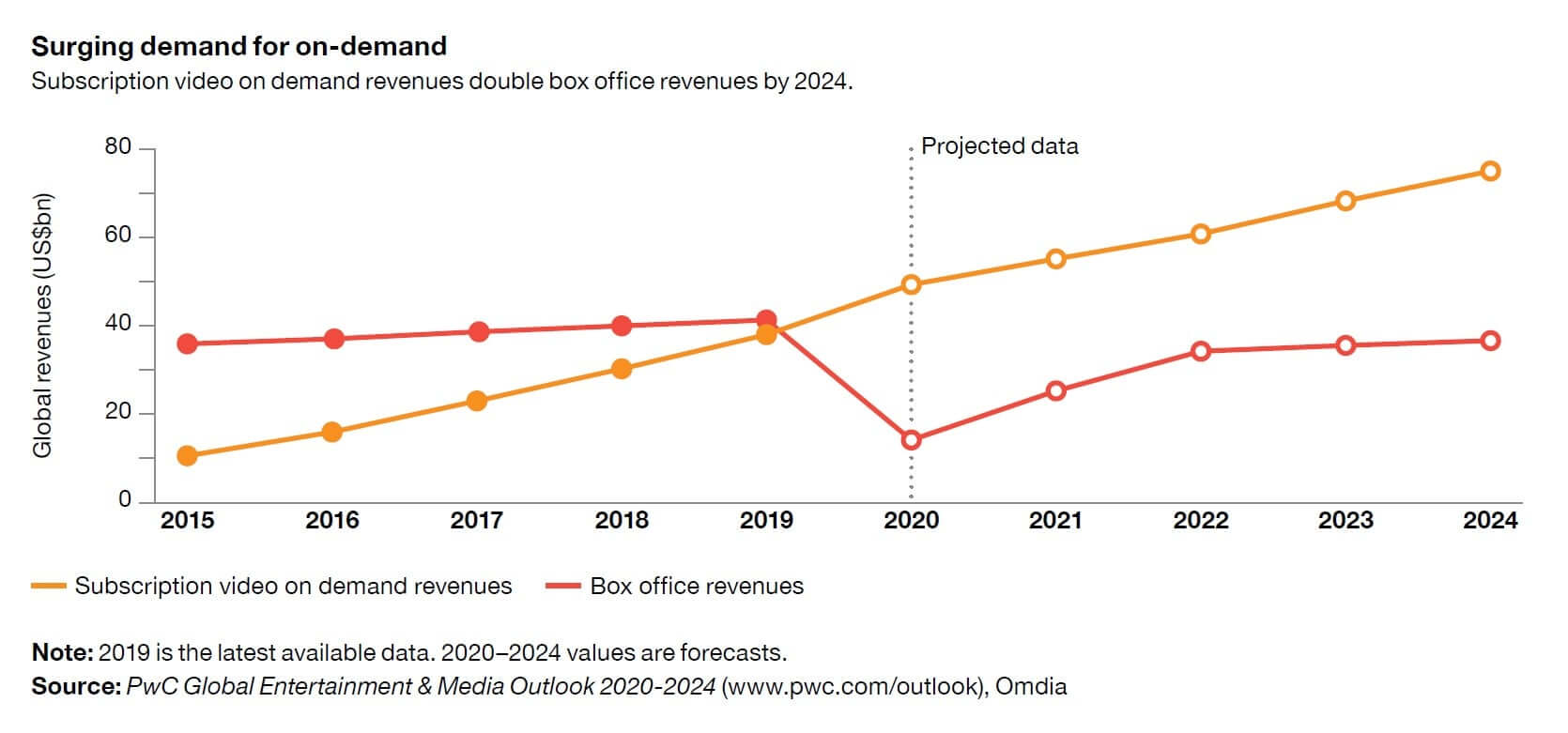 At the same time, global streaming video service popularity grew as people put seats in theater seats less frequently.
Subscription streaming services (SVOD) are still projected to reach nearly $83 billion this year and could grow to $116 billion by 2026. Already a vibrant streaming market, SVOD services will bring in more than $36.5 billion this year.

As with their theatrical showings, China holds stringent control of the local-only streaming services, which only include Tencent, iQiyi, Youku, and other smaller providers available to the country's population.
Meanwhile, US streaming customers will spend an average of nearly $70 annually for access to five services. User penetration in the Americas is expected to be 16% this year and nearly 19% by 2026 or 1,586 million subscribers.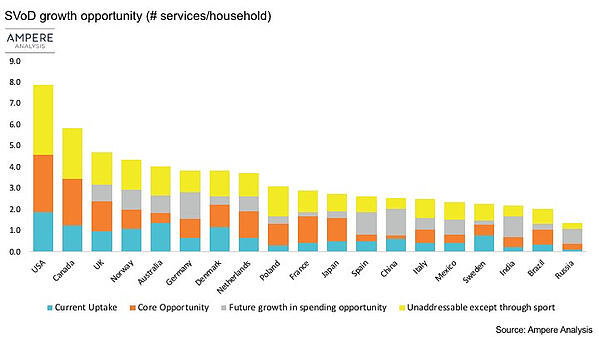 Obviously, there is still plenty of streaming growth opportunities—both in the Americas and abroad, despite recent surprises. According to analysts at Digital TV, the number of customers in Africa, Europe, and the Middle East will not equal or outnumber those in the Americas for a couple of years.
Netflix's past and present D2C (direct-to-consumer) growth and the slow demise of linear TV has not gone unnoticed by others in the industry. Allen McLennan, CEP/Media, head of M&E North America, Atos, suggested that five major US-based platforms (Netflix, Amazon Prime Video, Disney+, Warner Bros. Discovery's  HBO Max, and Paramount+) could control half the world's SVOD subscriptions by 2027.
Despite its maturity and hiccups, McLennan believes Netflix will add 60 million subscribers over the next five years. "The other two technology-based providers (Amazon Prime Video and Apple TV+) view and approach their streaming subscribers differently from their Silicon Valley neighbor Netflix," McLennan said. "They both look to attract and retain their customers beyond being strictly a streaming service provider."
McLennan continued: "Amazon has more than 200 million subscribers, but most of them sign up to take advantage of free two-day shipping, video games, books, and other services. Apple, with an estimated 20 million subscribers, is a very successful lifestyle brand. Video content—as well as video games, reading materials, communications/storage—is designed to keep folks in the ecosystem. Both provide rich, fresh, and distinctive content as a value-added service to their customers, but Amazon has to pay attention to recent pushback on subscription fee increases."
While Disney stumbled slightly when it rolled out Disney+ in 2020, the entertainment icon quickly recovered with outstanding content from its global production operations, including Walt Disney Pictures/Animation, Pixar, Marvel, Lucasfilm, 20th Century Fox, Searchlight Pictures, ESPN, National Geographic, Star, Hulu, and Hotstar.
In Q1 of this year, Disney+ reported nearly 130 million subscribers in six continents and is projected to overtake Netflix by 2028, adding 146 million subscribers for a total of 276 million.
It's worth noting that Disney's Hotstar service is projected to have 106 million subscribers in 13 Asian countries. They're hoping the India mix of sports (cricket is a national obsession in India) plus originals and low price will be important to folks across SEA (Southeast Asia).
Discovery can easily be considered the biggest merger in recent history, and  Discovery's David Zaslav has more than his fair share of "issues" to tackle to prove his eye-popping new salary of $38 million plus $190 million in options as he moves to take control of the new Warner Bros. Discovery.
The new entity will bring together TV channels like CNN, TBS, TNT, HGTV, Food Network, and Discovery Channel, as well as the Warner Bros. film studio and streaming services HBO Max and Discovery+. Even before the ink was dry on the merger, he signaled the demise of CNN+, which was felt throughout the news industry.
The organizations currently have about 90 million global subscribers in 46 global countries, and Zaslav is looking to grow that to nearly 150 million subscribers in 190 countries within three years—even as he must address relationships at home. He has to mend a lot of fences in the content production/distribution arena after Warner's short-timer, Jason Kilar, determined it was best to launch HBO Max streaming service with a modestly high subscription cost—"Our content is so valuable, people will happily bite the bullet." He also surprised just about everyone by deciding that the entire 2021 theatrical film slate would be simultaneously shown in theaters and on the streaming service.
The move forced Warner to pay out tens of millions of dollars to satisfy disgruntled A-listers and seriously damaged the firm's 100-year reputation.
At the same time, Zaslav will have to clean up Kilar's second mess in shuffling people and furniture at CNN. Warner Bros. and CNN had historically been very siloed, but now Zaslav will have to accelerate his schedule of tuning the totally new organization into a lean, mean, focused team with one mission: make Warner Bros. Discovery and services HBO Max, Discovery+, and Eurosport.com into global players.
With Zaslav and the rest of his "new" team moving to Hollywood, it's becoming apparent that the town isn't big enough for everyone, and some folks will have to go.
The new Paramount (ViacomCBS), like everyone in the industry, is now all in when it comes to streaming in the increasingly crowded stage. Chair Shari Redstone and CEO Bob Bakish have touted the breadth of content, including sports, kids, general entertainment, and news, as they gloss over their steady losses, which are projected to end by 2023. Losses are projected to be $1.5 billion this year, even as they ramp up spending to $6 billion on new content in 2024.
The return of South Park, growth of Yellowstone, and other popular projects are showing signs of producing a steady stream of spin-offs, expansions, and line extensions. The optimistic duo is projecting that subscriptions will reach 88 million by 2027.
It's going to be an interesting ride as Paramount goes toe-to-toe with the powerhouses and their big IP portfolios. Meanwhile, Comcast's NBC, Universal Pictures, and Peacock are struggling to find their place in the new broadband Internet, linear TV, streaming arena. While glossing over the miserable ratings for the Beijing Olympics, the company touted the strong numbers for football's Super Bowl, emphasizing the events were good for advertisers. Without citing specific subscription numbers for its premium and free versions, the company was anxious to discuss the roaring success of Hulu (their 33% stake could be bought by Disney as early as 2024) with more than 39 million worldwide subscribers.
Yes, it's confusing.
"While many say the US and global streaming service markets are approaching saturation, there's still a lot of room for growth," said McLennan. "Most consumers will have multiple services so they can enjoy a broad range of video content as the new participants—Disney+, Paramount+, HBO Max—make their presence known."
According to McLennan, Digital TV Research recently projected that global subscriptions could reach 1.75 billion by 2027. "Nearly half of that total will be generated by US and Chinese consumers, so there's still plenty of headroom for growth by the entire industry—especially since people in Africa, Europe, and the Middle East are getting such a strong dose of local and international content," he said.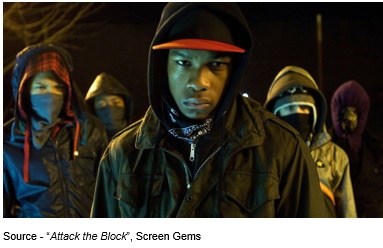 Studios will face strong pressure from all sides to support theaters with reasonable release windows, while also operating and feeding their streaming service to expand and retain subscribers.
As Jerome said in Attack the Block, "There are worse things out there tonight! Trust us!"