If you'd been nicer, you and us, we could have been friends. Because folks around here, we watch out for each other.

"The Watcher," Netflix 2022
Not certain exactly how or when it happened, but somewhere along the line, Gary Shapiro, Consumer Technology Association (CTA) boss and his team changed CES into an event that focuses on being a collaborative effort to improve the world we live in—for everyone.
The focus/messages of the organization and 3,000-plus exhibitors this year wasn't lost on the 100,000-plus people who walked the miles of halls. It made you realize that the industry was shifting to a "coopative" (cooperative, competitive) environment that was intent on developing partnerships and relationships to make meaningful contributions. Don't get us wrong, there were still booths where you said "WTF?" You know, like a tester that would help ensure the avocado you bought was the right ripeness for your guac, a toilet seat that salutes you, and a toilet that knows more about your health than you do, for example. How about a self-driving stroller (start the kid early), everything for your pet, or dozens—hundreds?—of cute apps that do… something, everything?
Yeah, that stuff was still everywhere, but the tone was more serious and different when it came to smarter homes, family entertainment centers, and our fave, advances in entertainment creation/production/delivery. We'll cover each area in the weeks ahead, because 2023 marks a shift in consumer technology with a purpose.
Right at the outset, we got sidetracked to the West Hall, which made you think that CES had been transformed into an auto/mobility show including every major EV/car manufacturer, flying machine hopefuls, smart mobility folks, and even food production firms like John Deere. 

Everyone who was anyone in the transportation industry seemed to be there—GM, Ford, Mercedes, BMW, VW, Audi, and more. There were also vehicle hopefuls like Stellantis, Asahi Kasei, Maca Flight, Verge, MoonBike, Candela, and more. In addition, there was every kind of transportation enjoyment/safety feature you could think of, like mind-blowing Dolby Atmos, Nvidia cloud gaming (not for drivers), free-floating display, EV chargers, Lidar safety options, heated seat belts, and more.
Research from CEA and IDC show that consumer technology remains strong even though total sales in 2023 will have a momentary dip. The industry is working out a few supply and demand issues but is still looking strong—and more fun.
While Shapiro is the industry's most ardent cheerleader, Steve Koenig, CTA's VP of research, provided the global exhibitors and attendees with solid facts to plan for the years ahead. He said we're a lot better than we were a few years ago, and despite the prospects of a recession, he was optimistic that technological innovations—including the buzzword phrases of "metaverse as a service" and "metaverse of things" (whatever that is)—can help everyone in the food chain stimulate and reinforce the global economy.
Of course, Shapiro also placed a lot of emphasis on personal/home health hubs and the dramatic advances in telehealth. In addition to a lot of attention on the industry's work on global sustainability, he did note that the CTA's recent "Future of Gaming Study" found that nearly three-quarters of the 13- to 64-year-old population also spent a fair amount of time playing games, so it's obvious it's not all work and worry.
Koenig said US tech retail will drop 2.4% to $485 billion this year, compared to last year's $497 billion following three years of steady growth. But that growth could return as the industry gets shipping costs and supply chain irregularities under control, and firms balance semiconductor inventories/demand.
The biggest issue Shapiro sees is that, globally, businesses are struggling to find skilled workers. There are more than 10 million openings in the US alone.
Technology, he emphasized, underpins the entire global economy. Interestingly, Shapiro said entertaining people will be a real catalyst for growth, a subject that will be explored in upcoming columns.
The big issue we've had in the past with all of the "world-changing" smart home technology, products, and toys is that they've been stand-alone stuff. That's great as long as you stick with their ideas and in their walled gardens. Siri stuff has been good. Alexa things have been OK. Ring products were cool. But no one bothered to discuss how their stuff might work with the other people's stuff or the things we've already got and are fairly happy with. In other words, it's been a bitch; but thanks to the efforts of the CTA's smart home division and the joint efforts of hardware/software folks, people may be able to upgrade parts of the home system without having to worry that they don't talk to or work with the other neat stuff you have in the house.
Matter is the combined effort of Amazon, Google, Apple, Samsung, and others that includes open API and open AI design that help ensure that new thermostats, doorbells/cameras, lighting, and sound systems do what you want… make things a little better for you at home. You may need a new Matter hub; but over the long haul, it will work with iOS, Thread, Z-Wave, Zigbee, Google, Android, Bixby, and other "great conveniences" you have around the house.

Solutions were shown at CES, and they'll be available from most of the partner companies this spring. So, by this time next year, you won't have to think about whether or not the new tech/device will work with your mobile OS or connectivity protocol… it will just do it! This probably won't solve everything, but over the long haul, it could make your house your home.
We've always been excited to see what new, sexy stuff industry players were unveiling at CES, but we started out being a little more practical this year. You probably didn't notice, but we had a helluva winter this year—everywhere—with devastating snowstorms, atmospheric rivers, ridiculous winds that took out power to millions of homes and made life "uncomfortable" for folks everywhere. Admit it. The world's aging power grids weren't designed for today's and tomorrow's energy demands or the effects/impact of climate change. There's no sign that there is an easy solution in the foreseeable future!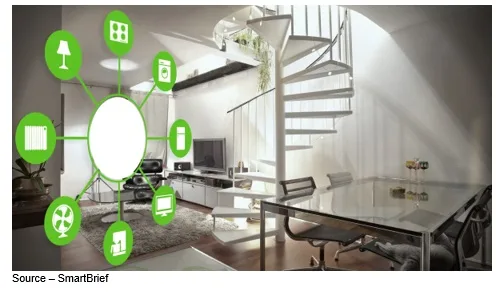 A couple of friends have been way ahead of us in planning ahead. One lives in the high desert and did a total solar panel, battery, generator upgrade this past year… just in case. Another lives on one of the major Bay Area hills with a fantastic view of the city, bridges, and the Bay, but the area is prone to wind/rain power outages, so he installed a generator to keep things humming and talking. He said the best way to ensure the power grid stays up is to install a generator. Maybe it scares the power company, but hey, if it works, we're all in.
It's never been a concern for us because we live in the heart of Silicon Valley and life should be comfortable… until it's not. So, before we start adding new smart devices to make our lives more comfortable, we'll be investing in some home power insurance. Then, when we plug it in, turn it on, and nothing happens, we'll be prepared. Some of the attention-grabbing products at this year's CES were solar-powered generators and battery systems.
OK, that's enough serious stuff because there were just so many exciting home things at the show to make your mind go wild, and it's time to upgrade some of the major appliances that you've stared at for way too long over the past few years. While Samsung was intent on bringing calm to our connected world, their kitchen offerings seemed to deliver a lot more excitement to the kitchen.

The company unveiled several new Bespoke refrigerators that highlighted their advances in hardware, software, and energy management. The new four-door French door designs featured side-by-side and top-freezer styles as well as a 32-inch smart display that gives you a place to keep notes, find recipes and, what the heck, even keep track of what's going on with your fave TV shows. Their new smart wall ovens will give you plenty of free time while preparing dinner with an AI Pro cooking feature. The internal camera recognizes 80 foods/ingredients, recommends the best cooking settings and can even send you a live video feed of your food cooking or burning.
Showing that Life's Good, LG showed CES attendees that you can now add a little excitement to your kitchen with their new MoodUp refrigerators. If your cooking is only so-so, LG's MoodUp can make the meal with friends and family more interesting with 22 color-changing options via LEDs in the door panels to change with the seasons or mood of the evening. The refrigerator is more than just a pretty face, though, because you can have smart notifications such as leaving the door open or lighting up when you approach. It even includes a built-in Bluetooth speaker to connect with your device to stream music or have a personalized light/sound event.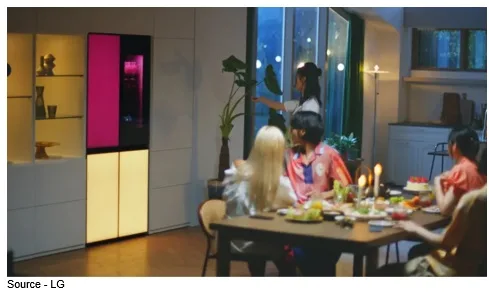 While we have Kohler faucets in our kitchen, and this year they really went all out to make the bathroom a sanctuary with their Eir smart toilet, which includes a heated seat and smart automatic flushing—if you need those added features. For folks who like the relaxation of a tub, their new Stillness Infinity Experience provides a great way to unwind, with a constant 104-degree water, special lighting, fog, and essential oils flow. For us, a quick refreshing in/out shower is good enough.
We always thought our Apple Watch did a great job of tracking all our health vitals, even though the new Ultra is tempting because it has all the features we need, like for when we're scuba diving.
But CES always seems to have some added surprises.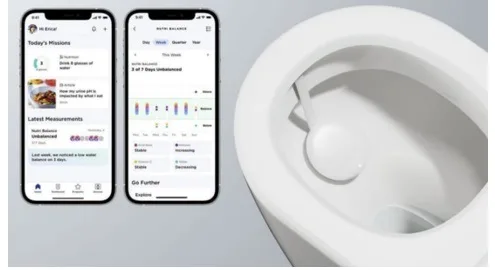 As long as we're talking about the bathroom and health, we were intrigued by Withings' U-Scan, which is billed as an in-home biomarker analysis platform, sort of a health lab in your toilet. There are a couple of different hockey puck-like modules that can help track/select menstrual cycle information, in addition to one for monitoring hydration/nutrition. It sounds "interesting" but won't be available until it receives FDA approval, which we all know takes time when the government gets involved.
As for the rest of your house, if you're looking for a friendly, helpful "companion," there were a lot of new robots introduced at the show that clean your rooms and take care of your lawn. For folks who have pools but don't want to clean them or hire a pool stud, Aiper introduced their new Seagull pool cleaning robot that programs itself to your pool; it scrubs the walls and does everything that needs to be done except empty its collection bag and charge itself. We know, the robots leave you with all the dirty work!
Speaking of water, you never really know if some of your water usage also includes a leak… until it's too late. Sure, it's easy to adjust the thermostat to the best temperature and see that your smart lighting is working properly, but the water is hidden in the array of pipes that run through your house or apartment. Kohler addressed the problem with their H2Wise+ solution, and the security folks at Alarm.com unveiled their Water Dragon. Both solutions are said to be easy for even a semi-handyperson to install and monitor water flow to help avoid costly repairs, property damage, and excessive water bills.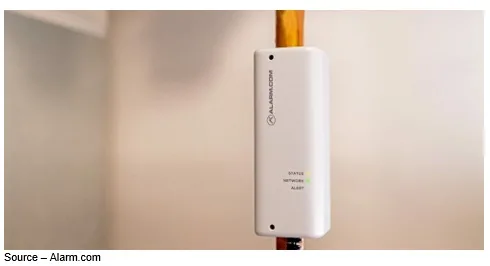 The great thing about this year's CES is that the industry is finally working together to deliver home solutions that not only make things safer and more fun for folks at home, but there's also greater attention on developing and delivering products and services that are easy to install and use. And, the vast majority of consumer solution firms are paying attention to minimize waste, make life a little less stressful, and reduce the impact on our environment.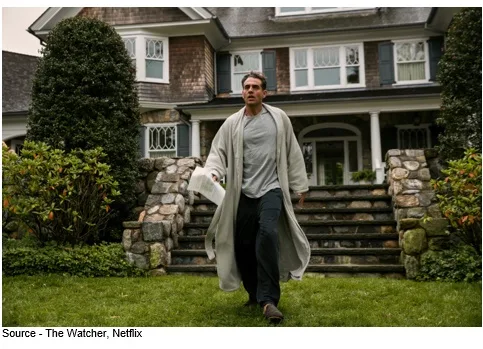 But just remember what The Watcher told the new homeowner, "I have never seen someone spend so much money to make a house look so awful."
Now that our work here is done, we'll distill all the great, eye-popping screen news folks served up at CES in next week's column.