Cash-strapped consumers will tolerate ads that are targeted and non-repetitive. But streaming companies are turning a deaf ear.
By Andy Marken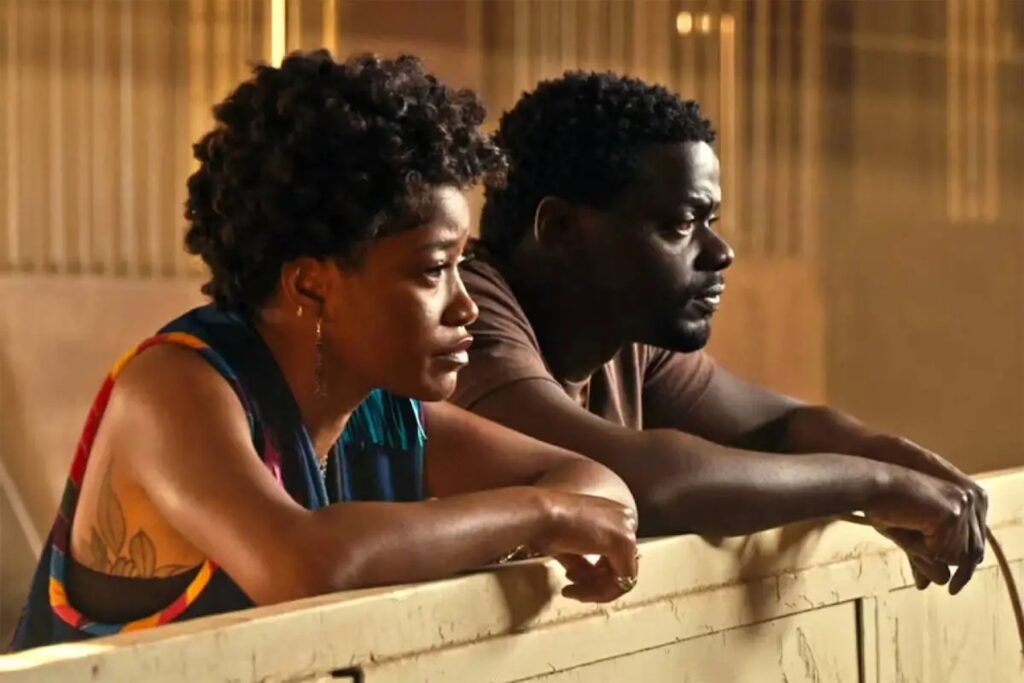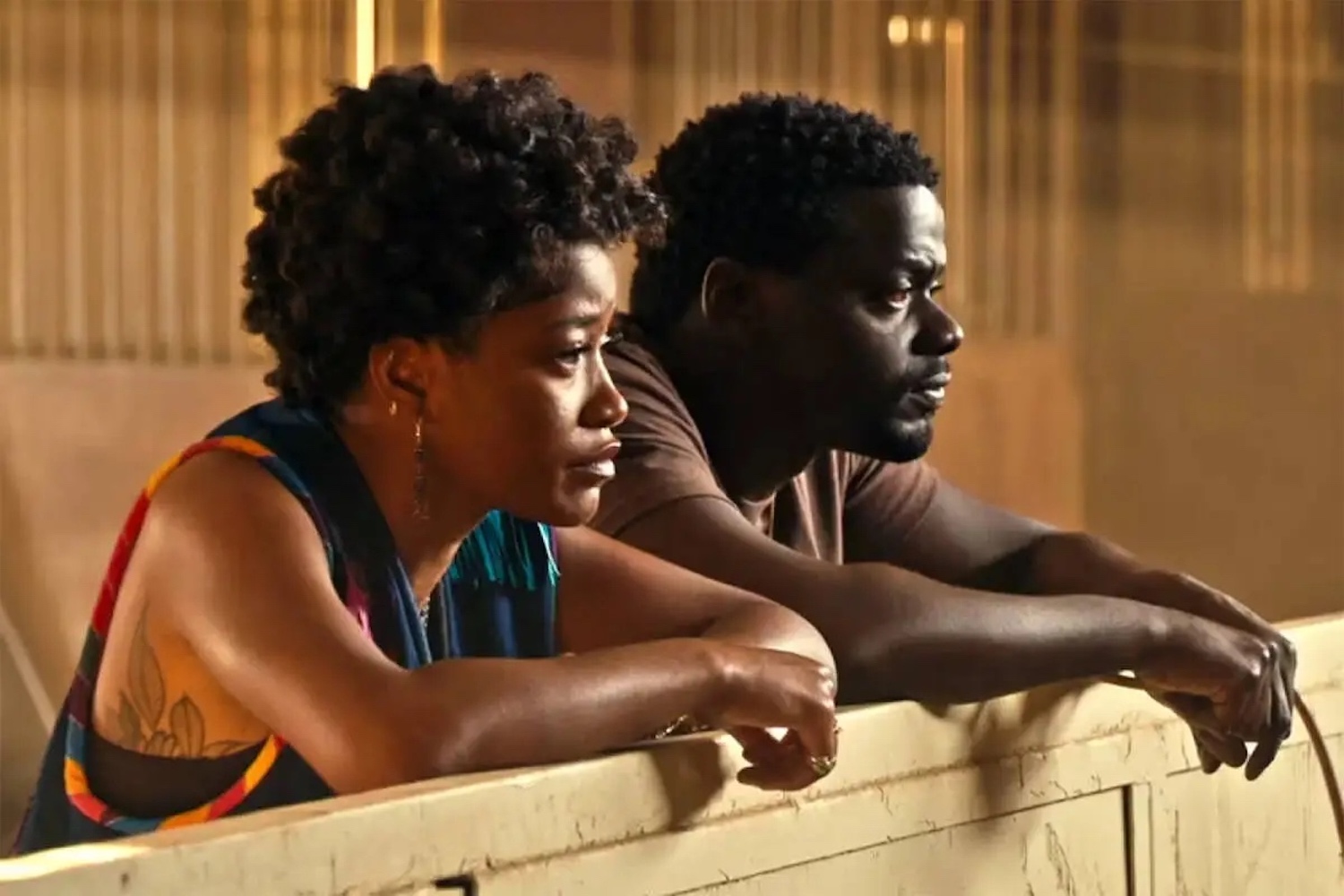 "What's a bad miracle, they got a word for that?" – OJ Hayward, Nope, Universal, 2022
OK, let's get past the elephant in the room… Netflix lost a bunch of subscribers and expects to drop more in the quarters ahead. They haven't really done anything wrong. But in the past two years, the streaming (and entire content) industry has changed dramatically.
Netflix CEO Reed Hastings and several industry analysts had projected that there was going to be 1,636 million SVOD global users in five years spending about $70 per month for their services. That smelled like money, big money.
At the same time, there was a seismic shift in the rest of the content creation/production industry.
M&A (mergers & acquisitions) activity and management changes hit every corner of the movie/TV industry, with the old guard stepping aside—retired, fired, or aligned to resign. Of course, the new bosses with nosebleed salaries were going to produce miracles for shareholders and content creators because, well, they were being paid tons of money, so obviously they were worth more than the folks they cast aside.
The new guys/gals knew they could shake up their organizations and not just dominate the theatrical and appointment TV, but also sweep over the techie streamer because they knew they could create the kind of movies/TV shows people everywhere would want to watch at home at almost any price. Yeah, it was going to be that good!
Disney shifted, shook, changed—including upper and middle management. Oh sure, there were a few of the old contracts, but nothing a little money couldn't resolve. The phone guy (David Zaslav, who spearheaded the transaction between AT&T and Discovery) shuffled things at Warner, with the new team focusing on their new streaming service; but he found out content isn't all fun and games, so he made Discovery an offer they couldn't refuse, including a $43 billion debt.
Old content contracts caused a few issues, but again, money talks.
Hulu had its people and priority changes, as did Paramount, NBC/Peacock, and just about every major movie/TV house around the globe. About the only streaming houses that weren't affected were the new kids on the block. Sure, Netflix added Ted Sarandos as co-boss to help share some of the workload and blame with Hastings.
No one paid much attention when Bezos stepped aside to focus on his rocket company, because Amazon Prime, IMDb TV (now Freevee) had other sources of income, and SVOD/AVOD were just nice additions to their mix. And, the content industry snickered when Apple brought out Apple TV+ with its slim library of old shows, low cost, and promise for a rich content future. Rather than rushing in with as much content as possible, Apple has followed its own path of creating and acquiring some of the best content available to build its movie/show library and audience. Shows like Ted Lasso resonate with their growing subscription base and their investors.
 Of course, the content folks forgot that the company has a fan base of more than 1 billion device/app users worldwide who like to play in their well-furnished walled garden that produced more than $378 billion in revenue and profits of more than $152 billion in gross profit. Then they grabbed a bunch of awards with their Ted Lasso series as well as great movies like Coda, Finch, Uncharted, The Banker, The Unbearable Weight of Massive Talent, and Beastie Boys Story documentary.
Sometimes, focusing on and listening to consumers pay off.
Individually, they're all great, but….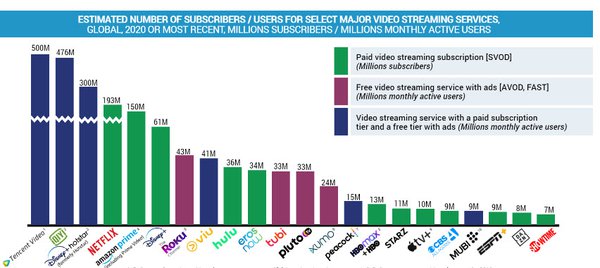 There are just too many good subscription services, each with good to great content that people want to watch. The other subscription services shouldn't be (and hopefully aren't) looking at the Netflix subscription drop with glee, but rather like the canary in the coal mine.
 As consumers struggle with day-to-day expenses, multiple streaming services become a luxury folks can't afford, so they add/drop services to meet their entertainment tastes and budgets. According to recent research by KPMG, almost a third of folks have struggled to pay for all their subscription services since the beginning of the year. Many folks are borrowing money or dipping into their savings to pay their bills, just as services were increasing their monthly fees because of the "added value" of their content.
People have discovered they are paying the same (if not more) for their network connection/SVODs as they were paying for their old pay TV bundles, as media companies pass their rising costs on to the consumers. If it's between paying increasing rent and higher food bills or sacrificing a streaming service or two, that seems to be a pretty easy choice.
Consumers shaved/cut their cable bundle to reduce their home entertainment budget, and they'll continue to add/subtract streaming services in the same way. The winners have to show real value in addition to making content selection fast and easy. According to a Nielsen survey, consumers ranked the importance of video streaming attributes from highest to lowest: cost (84%), ease of use (81%), variety/availability of content (79%), streaming/playback quality (77%), speed—menu selection/loading time (74%), accessibility/search of desired content (71%), availability across devices (58%), and resolution available (56%). Skipping ads followed at 52% and add-free at 48%.
In the past two years, SVOD services have focused their attention on the Gen-Z crowd (18–24), who were ready, willing, and able to pay for more streaming/music services—often more than double the number of services and the more expensive ones to boot—than older consumers.
But, it appears that the "free ride" has come to an end, as folks realize that too much of a good thing is… too much. At the same time, they based their service price on the fact that they were going to continually refresh their offerings with new content that consumers absolutely, positively had to watch—and at the service's perceived value/price.
Sorry, dude…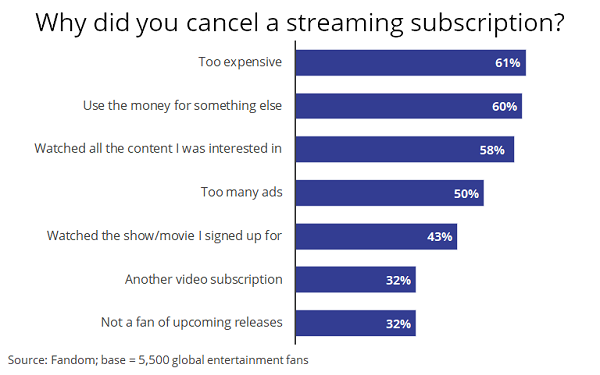 Churn has increased in the Gen-Z group because they have a comparatively lower disposable income and have much less brand loyalty than older subscribers. In Britain, research firm Kantar found more than 1.7 million services were dropped at midyear, citing higher costs in other budget areas. And in the US, 57% of those surveyed got rid of three out of eight expensive services and also switched to less expensive options.
According to the KPMG study, over a fifth of the subscribers were willing to reduce the number of services they subscribed to and/or drop more expensive services for more economic alternatives or newer, smaller services—especially when they had more elegant user interfaces, better selection engines, and more perceived value.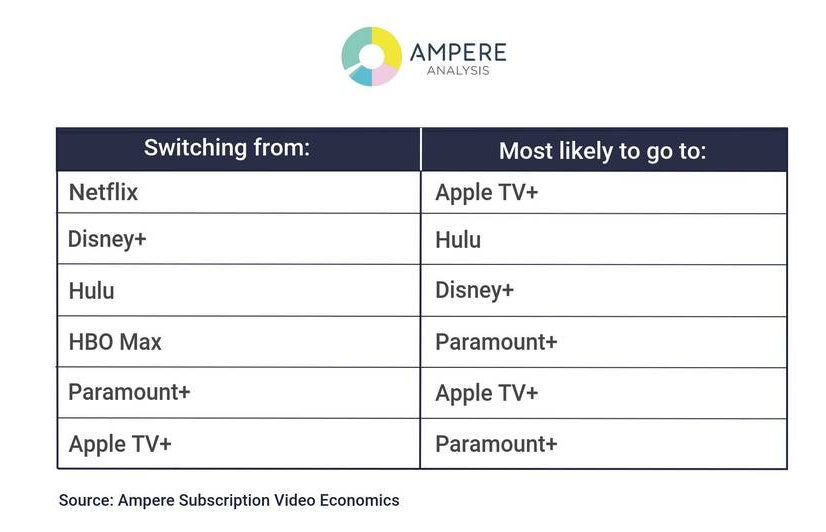 A recent study from Ampere Analysis found that Apple TV+ and Paramount+ have been the most widely chosen platforms for SVOD switchers. The churning streamers didn't seem to add a new service to their huge bundle of streaming services; instead, they transferred their spending elsewhere, while maintaining a core base of services.
At the same time, more than 50% of the folks said they were reducing their core SVOD services and adding ad-supported services such as Pluto TV, Tubi, Freevee, Peacock, and YouTube, as well as social media video options such as Facebook Watch, TikTok, Instagram, and other social media video platforms.
Ampere found that consumers are adjusting their home viewing service selection based on affordability (45%), a limited selection of titles (49%), lack of user-friendly interface (34%), and poor customer service (33%).
Both Omdia and Ampere have emphasized that while people are looking for ways to cut back on their streaming expenses, they still plan on watching the same or more hours of content through ad-supported services.
According to the services, more than 200 million US consumers regularly watch AVOD services; and in Europe, 54% of streaming viewers are increasingly turning to ad-supported content. Netflix continues to forge ahead to develop a rich roster of movie/TV franchises, spin-offs, and show/movie extensions to maximize its ROI for their leading shows and movies in a similar fashion to what Disney has done so successfully.
At the same time, they are reluctantly rushing to build a lower-cost, ad-supported version of the service, as has Disney, WBD, and other services quick to follow Netflix's subscription-only example. The minute Netflix, Disney+, Paramount+, HBO, and the other golden subscription services announce their AVOD/FAST (free ad-supported television) services, we'll make the switch, even though both Netflix and Disney have pre-announced that some of their content will be available only to SVOD customers.
Hub Entertainment Research found that 57% of those surveyed said they would tolerate ads, and 26% reported that content matters more than ads. Sure, there are those folks who say that ads are beneath them and they'll only watch subscription content, but people have a negative image of ads in their content because they've been abused… for years.
For crying out loud, the typical ad slot for yesterday's pay TV was typically 20 minutes per hour.  It's not whether consumers will accept ads with their content, it's how they're delivered. People are consumers, not targets.
With the volume of personal preference data available with IP-delivered entertainment, this is a chance for the content and ad industries to right the boat and deliver ads that people actually want to view but in a more efficient and more effective manner. Consumers don't want to see ads that are completely irrelevant to them, but at the same time, feel it's creepy when they're too relevant.
Creating and pedaling ads is one of the things US services/marketers are really good at; and with a little bit of work and intelligence (OK, a lot), they could really make this thing work. Folks like Netflix's partner Microsoft, Disney's Trade Desk, Peacock's parent Comcast, and ad verification specialists like Integral Ad Science can help develop ad platform opportunities that are contextual and more targeted ads that are less insulting, intrusive, and more interesting, informative, and effective for the consumer.
And it's not that they have to do a lot of digging. All they have to do is set aside the idea that they know what consumers want… shut up and listen. According to a Morning Consult survey, about half of US adults are bothered by irrelevant ads. Also, most folks say there are too many ads (44%), they are too repetitive (69%), and they're too invasive (79%). It should be pretty easy to limit the number of times we see the same ad in our household (IP address), because watching the same ambulance-chasing lawyer ad doesn't make it more effective. Even multiple versions of the ad would be a relief!
Tubi, Freevee, and Pluto TV are limiting themselves to 3 to 5 minutes of ads per hour with a range of pre-roll ads and/or ad block, which is palatable as long as they're not the same ads every hour. The tough balance for streaming services is to deliver personalized (but not too personalized) ads that deliver the right message, while respecting the viewer's privacy…. Yeah, it will take a little work. There's a fine line between being creepy and being effective.
Once streamers and marketers have a better understanding of what a targeted ad is, the better off we'll all be.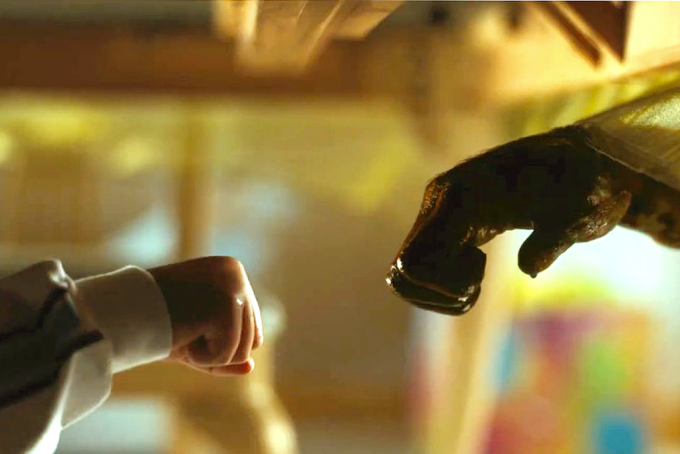 Netflix, Disney, Hulu, Apple, and a few other folks already have built up a sound base of trust with audiences. Now, all they have to do is continue to offer quality content and folks will spend time with the surrounding ads because it's a reasonable value exchange. That's when the ad-supported services and advertisers will be able to high five each other because as OJ Hayward said in Nope, "You know they're gonna bring us back for the sequel."
Services will make more (on the front and back ends) than simply chasing more subscribers. Marketers will be more effective with their ads, and folks will be able to watch content and ads they enjoy It may not be perfect, but our streaming video budget and family will be happier.
You only want ad-free content? Knock yourself out!