By Andy Marken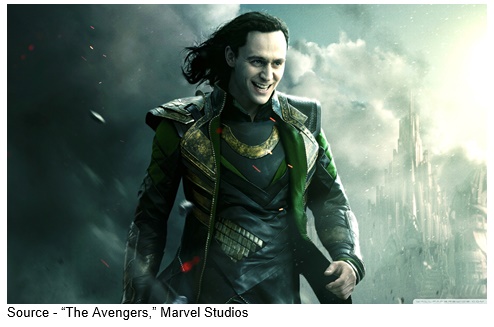 "I am Loki of Asgard and I am burdened with glorious purpose."—Loki, "The Avengers," Marvel Studios, 2012
Sometimes we get so enamored with movies in theaters and content on our home screen, we think that's the alpha and omega of the entertainment industry. It takes our kids to bring us back to reality.
We're looking forward to seeing Top Gun: Maverick with our son. After all, it's been nearly 36 years since we saw Cruise climb into the cockpit and take the stick. The kid, though, really prefers to take the controls with Ace Combat 7 and rule the skies. We have to admit, he's darned good at it, too. Of course, he should be… he spent hours on his GeForce NOW account in the cockpit, then had to add Google's Stadia when game company Bandai Namco suddenly disappeared from his preferred cloud gaming platform.
It gave us pause to think maybe M&E isn't all about movies/TV shows.
We make a big deal out of people shifting from pay TV to streaming. Entertainment industry analysts Ampere had already developed a new classification for households… super stackers. You know, households that have three or more SVOD subscriptions. In fact, Ampere recently reported that more than 29% of US streamers already have five or more services.
Why the attention? Because Hollywood has always been glamorous… at least from the outside looking in. Beautiful people, beautiful projects, beautiful award events, beautiful deals.
OK, so a lot of it is fantasy, but folks like to believe it. Some like to simply look. Others like to get fringe folks and outsiders involved in the industry.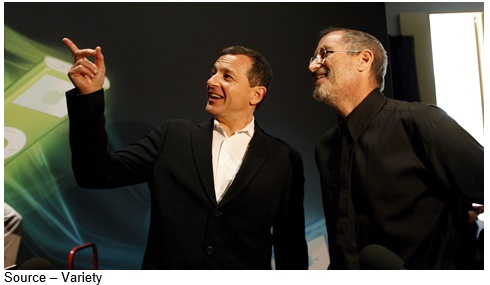 In his memoir The Ride of a Lifetime, Bob Igor didn't say that he and Steve Jobs had discussed a merger or acquisition, but then, he didn't say they didn't either.
The two firms have always had more in common than differences because both organizations are creative and have a positive global following. Disney has billions of folks who enjoy visiting the parks, taking the cruises, watching the movies, buying the merchandise, and, with the rollout of Disney+, watching the content at home. Apple has hundreds of millions of device lovers around the globe and, with the rollout of Apple TV+, millions of content viewers.
Only Igor knows whether Jobs took a pass on the merger, and it looks like he wants to keep the Jobs mystique intact.
All of that didn't stop Wall Street from saying Tim Cook blew it when he didn't snap up MGM while it was being shopped and allowed Amazon to acquire it for a mere $8.45 billion. However, a media merger may still be in the future for Apple—it has the financial reserves for it—but they're in a stronger M&E position than the boys in the Street give them credit for. Certainly better than AT&T when they racked up $85 billion in debt to purchase WarnerMedia (total debt load, $153.39 billion) before realizing it would be better if someone who understood the industry and people controlled its future.
Building a great global streaming service takes talent and luck, but it also requires a heavy dose of relationships and listening. Discovery's David Zaslav knows relationships count, and surprising the creative and distribution folks isn't cool.
There are more media acquisitions to be had—streamers around the globe need all the stuff in the libraries as well as the production facilities/leases and creative development resources. The real key is understanding where the audience is and their interests today—and tomorrow. That's something Apple has attempted to do for a long time. It was apparent when they announced Apple TV+ back in 2019.

Sure, folks got all excited about the content Oprah Winfrey, Steven Spielberg, Jennifer Aniston, Reese Witherspoon, Jason Momoa, and others were going to create for the new service. But like Disney and Amazon, what they really rolled out was a multi-leg entertainment home/personal service.
Disney had its destinations, deep library, and roster of new content as well as a bustling (and profitable) video game business. The e-commerce company had a subscription and free streaming (Prime Video, IMDb) as well as reading options, games, and music galore. Apple reminded people that in addition to video stories, they had games, news, and music to keep the faithful busy in their closed garden.
Increasingly, streaming entertainment services are understanding that by offering a full range of content, they can keep people in-site, so they don't jump from service to service. With all three of the services, people didn't have to jump from one app to another. The faithful could move from movie, to TV show, to games, to the full spectrum of entertainment, and stay in their pond.
Netflix's Reed Hastings and Ted Sarandos haven't been resting on their content or sitting around counting their film statues. They may be the leader in streaming content with more than 210 million global subscribers, but they're also considering a bundle of games, many based on some of their most popular project story lines, not unlike Apple Arcade with exclusive/timed exclusive games.
Why? Well, first off, subscribers want a continuing stream of new content, and once they've burned through the new stuff, they're ready for something new—even if it's somewhere else. One way to keep people is to give them interactive shows (which the industry is trying to master) to enable viewers to engage with the stories and experience different viewing segments and endings.
Warner? Naw, they shed their gaming business (Sony snapped it up) because games don't have red carpet events.
Entertainment is more than just movies and streaming shows, especially among the emerging influencers—Gen Z. Constantly with a screen in hand, they prefer to play video games, stream music, connect/engage on social media, and in their spare time, watch TV or movies. Gen Z-ers have been early adopters in the entertainment market, and they influence what next-generation millennials and Gen X-ers connect with.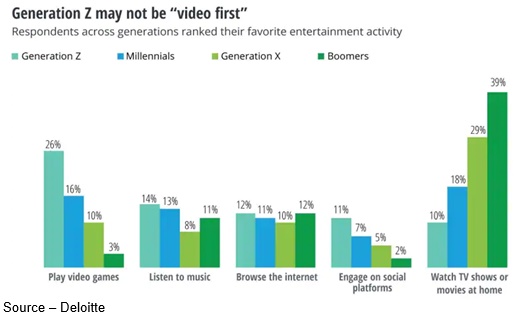 According to Deloitte, 87% of Gen Z, 83% of millennials, and 79% of Gen X people regularly play video games on their smartphones, game consoles, computers, and big screens. SVOD bosses liked the idea that 49% prefer paid gaming, and they tend to stick with their single-person and multiplayer games for a long, long time.
Most Gen Z players report that video games help them stay connected with others, and more than half note that they will cut back on other forms of entertainment to play games. When they're not playing video games, more than half of the young adults (18­–29) stream music every day. And they aren't alone. More than 40% of young and older folks list music as one of their top three entertainment activities.
And for the SVOD service, 45% of the listeners—67% millennials—would rather pay for their service than have it interrupted with ads. Perhaps that's why last year, 80% of music revenues came from paid streaming services.
Churn, or moving from one service to another, is a continuing issue for video services because people find it difficult to manage four to five subscriptions, tough/frustrating to find the right entertainment, and see management of their entertainment budget as a juggling act.
Younger generations rely on social media influencers and social media ads to find the content they want to view or determine which services they should add, drop, retain. We admit that we don't understand it, but people found the ads in social media for streaming video content were "likable" if they helped them find the movie/show they were looking for in their service. When they couldn't, they switched.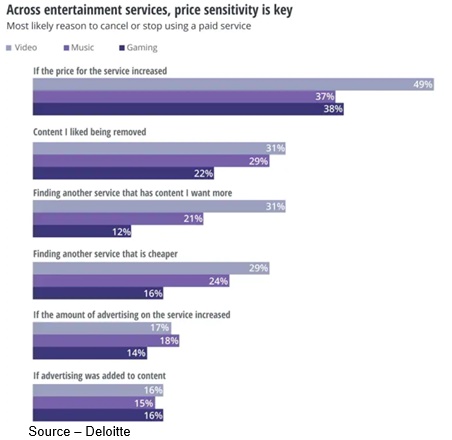 Cost counts—Some services have claimed their services are only a few dollars more and customers will see the added value, but it doesn't quite work that way. According to multiple surveys, the main reason for changing services is cost. Cost isn't an arbitrary figure, since consumers already have a service budget in mind, regardless of how valuable the provider believes their content is. Consumers say they are most willing to pay $12 a month for ad-free service (40%) or 10 minutes/hour of ads for free service (39%).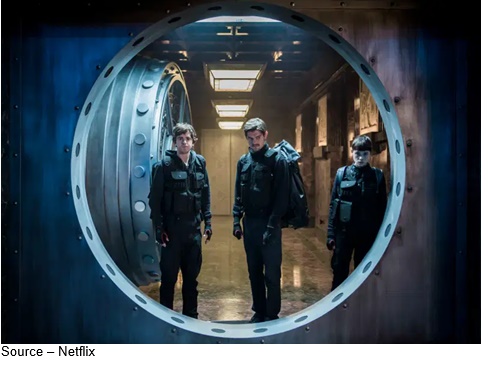 One of the reasons Roku, Amazon Fire, Apple TV, and Nvidia Shield have become popular with people streaming their entertainment is because they offer a centralized location for viewers, players, and listeners to find the content they want without having to move from one app to another. In addition, you can scroll through their paid and free offerings.
Both Roku and Amazon offer value for everyone in the distribution chain. For viewers, more content selection; for advertisers, broader audience. All of that works well when you watch, play, and listen to your content at home, since most households still have their robust broadband connection from the old pay TV days.
Great, but…
The biggest issue is one that is outside the content producers'/distributors' control: mobile bandwidth for on-the-go entertainment. In the US and in a number of high-volume streaming-content countries, the mobile service providers deliver 4G performance, at best. So, if you wonder why you're not enjoying brilliant 4K HDR streaming video with your device, or your video game has a little lag, it's because content delivery service folks have to throttle back "a little" so the content/performance is still acceptable, just not perfect.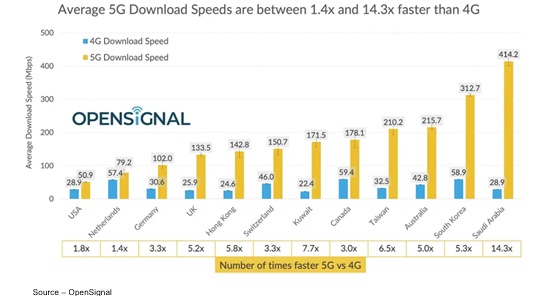 We know you bought a new 5G iPhone this year, and life is good, getting better—especially if you live in South Korea, Canada, England, or just about everywhere but the US. Verizon and T-Mobile have been aggressively building out their 5G infrastructure over the past few years. Now, even AT&T has shifted its attention from selling content to delivering 5G service across its entire spectrum.
Of course, you may be experiencing high-speed wireless service if you're in the right location. If you are, don't move! Also, If you're streaming Netflix content, you're likely to be able to watch 4K. Because they understood the issues, and anticipated problems, Netflix developed advanced codec solutions that deliver quality with a minimum of bandwidth.
In addition, Akamai, Cloudflare, and other major content delivery networks (CDNs) are helping streaming services by closely managing their services and strategically locating content servers closer to the edge of the network to improve streaming performance. While your mobile service provider proudly touts their 100Mbps or 144Mbps service in your area, services in other countries would say that is very good 4G (maybe LTE, or Long-Term Evolution) performance.
The US wireless service may not be broad and fast, but it is one of the more expensive wireless services around the globe. It's also why most users are advised to switch their device streaming from 5G to Wi-Fi for viewing/playing. The quality is good, and it's easier on the budget.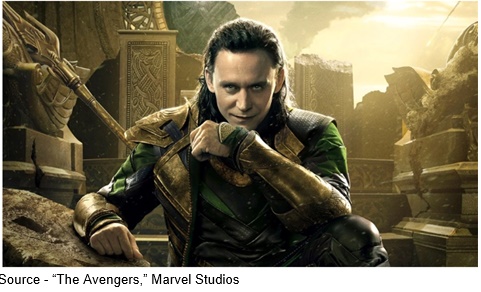 For the time being, you'll probably agree with Loki when he said, "For the record, this really does feel like a "killing me" type of room."
It will get better-—soon. Until then, check the settings on your iPhone or just listen to music.
Andy Marken—[email protected]—is an author of more than 700 articles on management, marketing, communications, industry trends in media & entertainment, consumer electronics, software and applications. Internationally recognized marketing/communications consultant with a broad range of technical and industry expertise especially in storage, storage management and film/video production fields. Extended range of relationships with business, industry trade press, online media and industry analysts/consultants.