Advertisers may have finally discovered a way to effectively advertise on Snapchat.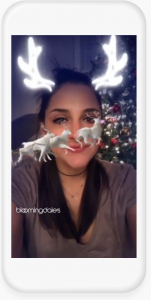 Snapchat is a mobile app that allows users to send and receive "self-destructing" photos and videos. Like Facebook, Twitter, and other social media, the question always is how do you monetize the free service. And the answer always is, through advertising.
Snapchat's approach to adding advertising to the pictures people exchange is to provide a new feature that lets users place 3D versions of their Bitmoji avatars into snaps. Essentially it places an animation of the users into the pictures using augmented reality—much like Pokémon GO.
Snapchat thinks advertisers will want in on its sponsored 3D world lenses feature, and we agree. Who wouldn't want to see a hot dog or can of beer dancing on a photo of their cat? This feature, demonstrated in July, gives users the ability to place their own 3D bitmoji's into snaps. However, the value to advertisers seems obvious as a new way to catch eyeballs with (hopefully) engaging 3D advertisements that are embedded within the photos and videos users take. A couple of recent examples, presented from those at Snapchat, are two ads from Blade Runner 2049 and a Bud Light beer vendor man, which are similar to an app Bloomingdales developed earlier.
Any of these advertisements can be embedded into any photo or video taken in Snapchat, as an opt-in by the user and sent to some unsuspecting friend. Nice huh?
Harrison Garovi is a recent graduate from the University of San Francisco who received a bachelor's degree in advertising. Prior to attending college, Harrison was an intern for Jon Peddie Research and was responsible for testing graphics cards as well as other pieces of hardware. His interests are music production, traveling, playing video games, video editing, and taking photos of his Ford Mustang.